The Best State Farm Car Insurance Review [Quotes + More]
State Farm Insurance Company has been the leading auto insurer since 1942. Our State Farm car insurance review finds that the company's nearest competitor is GEICO, which has about 3.5 percent less market share than State Farm. State Farm auto insurance rates average at $129/mo, which is lower than the average premiums in most states. Start comparing rates now for free with our free quote toolbox below.
Compare Cheap Car Insurance Quotes
Secured with SHA-256 Encryption
The largest auto insurer since 1942. Over $160,000 billion in assets. More than 19,000 independent agents. Its name belies its stature within the insurance industry.
It is, quite simply, State Farm. The company that started selling insurance policies to farmers in 1922 has, since then, grown into the most powerful insurance company in the United States.
We all know this. However, you might ask the question, "Even if this is the largest company with the most resources, is it right for me?"
Car insurance and researching car insurance companies can be confusing. There are rates in a dozen different ways, technical terms like GAP and PIP, and industry nomenclatures like deductibles and premiums.
When you research, you may want to bang your head against a wall. We understand.
That's why we've put together this guide. It's your all-you-need-to-know guide for State Farm. We cover the company's financial ratings, its culture and history, its rates, its coverages, and much more.
By the end, you'll have your black belt in information about State Farm. Hopefully, it'll help you make a decision about whether you want to go with State Farm or one of its competitors.
If at any time you're ready to compare rates, try our FREE online tool.
Let's dive in.
State Farm's Rating Agency
Like your grade on your college paper or that three-digit credit score that determines your interest rates, ratings for car insurance companies matter.
They may indicate a company's financial strength, show its customer satisfaction with a claims process, or the number of complaints filed against it. The result if a broad look at a company and its success in numerous areas.
We have six ratings from different agencies for State Farm. Let's get started.
AM Best
AM Best is one of the leading credit rating agencies in America. What does this mean?
A credit rating agency grades companies based on financial strength, creditworthiness, and more. Similar to your credit score, these credit ratings can affect a company's reputation and likely possible relationships with other businesses.
AM Best gave State Farm an A++ Financial Strength Rating, the highest rating possible. It means that State Farm has a "superior ability to meet ongoing insurance obligations."
This means that State Farm is highly unlikely to default on loans and fail to pay out on claims.
Better Business Bureau
The Better Business Bureau (BBB) rates companies by a few factors.
Business complaint history with BBB
Type of business
Time in business
Transparent business practices
Advertising issues known to BBB
State Farm has an A+ rating with BBB, which is BBB's highest rating. However, consumer reviews and ratings on BBB's website tell a different story.
Consumers give State Farm a 1.1 rating out of five for 250 reviews. State Farm has closed nearly 1,400 complaints in the past three years.
S&P Rating
Standard and Poor's (S&P), like AM Best, is a credit rating agency. Like AM Best, S&P has high marks for State Farm, giving it an AA rating.
This is the second-highest rating possible and "differs from the highest-rated obligations only to a small degree. The person's capacity to meet its financial commitments on the obligation is very strong."
NAIC Complaint Index
Ever wondered what kind of complaints a company has against it? Fortunately, the National Association of Insurance Commissioners (NAIC) keeps track of all that data and puts it all into a handy statistic called the complaint index.
The complaint index is a balance between the number of complaints a company has versus how many premiums it has written.
State Farm had nearly 1,400 complaints last year, according to the NAIC, but still came out with the third-lowest complaint index.
Its major competitors are Allstate, Progressive, and Geico, and all have a much higher complaint index than State Farm.
J.D. Power
You might be wondering now about customer satisfaction. After all, financial ratings are great, and low complaint indexes are good. But are customers really satisfied with it?
For this, we turned to J.D. Power and its claims satisfaction study. In it, J.D. Power surveyed customers of different car insurance companies to rate their satisfaction regarding different parts of the claims process.
State Farm turned out to be in the very middle of the road for, well, about everything.
There were five companies rated above it, including competitor Geico, which scored higher on First Notice of Loss and Settlement.
Consumer Affairs
Consumer Affairs is similar to other sites in that it gives users an opportunity to provide feedback about an organization.
Keep in mind that these users might not reflect the general population as people that seek out sites to give companies reviews are generally not happy. That being said, users gave State Farm a 3.8 out of five for over 2,600 reviews.
Compare quotes from the top car insurance companies and save
Secured with SHA-256 Encryption
State Farm History
State Farm was founded in 1922 when a retired farmer and former salesperson, George Mecherle, saw a need for farmers to have auto insurance.
Soon, in 1928, State Farm started writing policies for non-farmers, and in 1929 would branch out into life insurance.
In 1942, it would reach a peak that it hasn't to this day descended from. It became the number one auto insurer in the United States. Along the way, there have been jingles, catchphrases, more insurance verticals, and even a few lawsuits.
This growth has impacted a number of industries, including postal. As the USPS notes, in 2014, State Farm sent over 1 billion pieces of mail, with postage worth more than $300 million.
However, you might be asking, "That's all in the past. What is its story today?"
That's what this section is for. We understand that researching a company may be difficult.
Wading through financial documents to determine market share, going from site to site trying to figure out its online presence, or researching job sites to see what its employees think about it, can be frustrating.
In this section, we do the research for you. Whether it's the financial data like market share, its public relations profile like online presence and commercials, or what its employees think about it, we've got you covered.
Let's begin.
State Farm Market Share
State Farm has been the leading auto insurer since 1942. And it has a much larger percentage of the market than its nearest competitors. This data comes from NAIC reports for 2015, 2016, 2017, and 2018.
However, it has lost market share every year since 2015. Two of its main competitors have been gaining market share in that time frame.
Geico and Progressive have each gained around 2 percent of the market, while State Farm has fallen a little over one percent.
This may be due to numerous factors, including better marketing and advertising, lower underwriting expenses, or better telematics systems.
State Farm's Position for the Future
State Farm has been the leading car insurer since 1942 and control by far the most market share. Its nearest competitor is Geico, which has about 3.5 less market share than State Farm.
Its loss ratios, which we'll cover later, are healthy, and its premiums written continue to grow year after year. Its social media accounts have thousands, if not hundreds of thousands of followers.
So what is the concern?
State Farm's market share, while still at the top, has been declining over the past four years. In that time frame, two of its top competitors in Progressive and Geico have been gaining market share.
While it's uncertain what might play a role in this, the declining market, in spite of having the second-lowest rates of all top 10 companies, suggests that something is amiss.
It might be its advertising or its customer service or its agents, but its market share is falling. So, while State Farm is still far and away from the leading company, it may not be in the next couple of decades if the trend continues.
That's the concern.
State Farm's Online Presence
State Farm, like many other top insurance companies, has numerous online outlets where people can reach them. There are five major ones for State Farm.
With each, there is the possibility of contacting the company. On Facebook, it reads that State Farm usually responds within a few hours.
State Farm's Commercials
Car insurance companies bring the funny.
They do this because it's difficult to get someone to remember facts about comprehensive insurance without something to get their attention. And positive emotions associate the commercial and info with pleasure.
State Farm is big on sports. In football, it has Aaron Rodgers and Patrick Mahomes as spokespeople. And in basketball, it has Chris Paul.
Usually, its commercials involve hilarious or unusual situations with someone giving the tagline, "Like a good neighbor, State Farm is there."
Aaron Rodgers and Patrick Mahomes:
Chris Paul:
Hot Tub:
State Farm in the Community
State Farm, like other top insurance companies, is active in the community. It writes on its website that it is active in three particular areas.
Auto and home safety programs and activities that help people manage the risks of everyday life.
Disaster preparedness and recovery programs and services that help people recover from the unexpected.
Education, economic empowerment, community development projects, programs, and services that help people realize their dreams.
Al three show how State Farm invests in the communities it serves.
State Farm's Employees
To get a good look at company culture and how State Farm's employees think of it, we gathered data from four sites, including Indeed and Glassdoor. The results paint a picture of a company that is above average, in terms of how its employees think of it.
The first set of results comes from Indeed.
Employees are high about the work-life balance, the culture, and the pay and benefits.
On CareerBliss, employees were high on their coworkers, their bosses, and the company's mission.
On PayScale, employees were not as high on the company as those on Indeed and CareerBliss. They rated the company a little above average with a high degree of stress.
On Glassdoor, employees reported the lowest rating for State Farm out of any of the sites. Two prompt responses including Recommend to a Friend were below 50 percent.
In general, employee ratings for State Farm were about par with most companies and a little less than some top competitors.
Cheap Car Insurance Rates
Listen: we know that searching for rates is difficult. While it might be easy to get a quote, and sometimes it really isn't, there may be confusion as to the factors insurance companies use to set them.
Vehicle make and model
Commute rates
Coverage level
Driving record
It's enough to give someone a headache. We understand and have got you covered.
We put together this section to give a little clarity to the quotes process and to give you an idea of why companies use the factors they do. We'll cover all those and more, including how State Farm's rates compare to the other top 10 companies.
All our information comes from our partner Quadrant, which has the inside track in the car insurance industry. Its statistics come from actual purchased policies, like yours or mine.
Let's get started.
State Farm Availability and Rates by State
State Farm is available in all 50 states plus D.C. Its rates are generally lower than the average premiums in those states, but that's not always the case.
The five states where State Farm has the lowest premiums when compared to the averages are Hawaii, Minnesota, Rhode Island, Massachusetts, and South Dakota.
Hawaii: -59 percent
Minnesota: -53 percent
Rhode Island: -52 percent
Massachusetts: -49 percent
South Dakota: -42 percent
The five states where State Farm has the highest premiums when compared to the averages are New Jersey, Vermont, Alabama, Utah, and Arizona.
New Jersey: 37 percent
Vermont: 36 percent
Alabama: 35 percent
Utah: 29 percent
Arizona: 26 percent
There are only eight states where State Farm's average premiums are higher than the statewide averages. In 42 states and D.C., its rates are lower, sometimes by 20 or 30 percent.
Comparing the Top 10 Companies by Market Share
As such, State Farm compares well to the other top 10 companies in terms of rates.
In terms of average rates, it is lower than all companies except for one.
That one is USAA, which is available only to military service members and their immediate family members, such as children and spouses.
Of the top four companies, Geico is the only company close to State Farm's rates. It has an average premium of about $350 more than State Farm's. Allstate' and Progressive's rates are much higher.
Average State Farm Male vs Female Car Insurance Rates
Male versus female. Young versus old. Married versus single. Car insurance companies, including State Farm, use all these factors to set rates. Why? It all comes down to a single factor. That is, your likelihood to file a claim.
Some car insurance companies believe that males have a higher likelihood of filing a claim than females.
In part, this is backed by research, as the Insurance Institute for Highway Safety states that men are more likely to engage in risky behavior while driving. The same logic applies to young drivers versus older drivers. Young drivers are less experienced drivers and more inclined to risk-taking behaviors.
Married versus single. Those who are married are looked at as more responsible, both as drivers and financially, which makes them less risky as customers.
All mashed up for State Farm, the difference in rates between a 17-year-old single male and a 60-year-old married woman is around $5,500.
That is actually a fairly small difference compared to other companies, whose differences might be in the seven to eight thousand range or higher.
Average State Farm Rates by Make and Model
Companies, including State Farm, also vary rates according to the make and model of your vehicle. There are a few reasons for this.
A vehicle might have more technological parts or parts harder to replace than others.
A vehicle might be assessed negatively based on its safety ratings.
A vehicle might have higher theft rates than others.
A newer car might be more costly to insure because it's worth more.
For State Farm, even for makes and models that are identical, a newer car is more costly to insure.
The difference varies but averages out to be around $200 to $225.
Average State Farm Commute Rates
Some companies vary rates according to how far your commute is or how much you drive within a year. The logic seems to be that the farther you drive, the more likely you are to get into an accident or have to file a claim.
Between a 10-mile commute and a 25-mile commute, State Farm changes its rates by around $170.
State Farm's rate change is about on par with other companies.
Average State Farm Coverage Level Rates
During the quote process, you might be asked, "What coverage level do you want?" And that might bring up some more unanswered questions such as, "What is a coverage level?"
The answer comes down to two parts.
The number of coverages you have: if you have comprehensive on top of bodily liability, that is a higher coverage level than if not
The coverage limits on those coverages: if you have a $100,000 coverage limit instead of a $50,000 coverage limit, that is a higher coverage level than if not
Sometimes, the difference between a low coverage level and a high coverage level for a company can vary in the several hundred.
For State Farm, the difference is much smaller at $400.
Average State Farm Credit History Rates
Your credit history matters more than determining the interest rate you'll receive on a home loan, whether you can rent that apartment, or whether you get approved for a new credit card. It affects your car insurance rates as well.
Insurance companies believe, and State Farm has gone on record stating this, that your credit history can help determine your likelihood of filing a claim. However, they calculate this not with your FICO score.
Instead, they use they cherry-pick dozens of information from your credit history and put it into their own "secret sauce" formulas. This, according to Consumer Reports.
Generally, the difference between good credit history and poor credit history numbers in the thousands. State Farm, in this respect, is no different.
There is around a $2,800 difference between good credit history and poor credit history.
Average State Farm Driving Record Rates
Your driving records also impacts your car insurance rate. Whether you get a DUI or into an accident or even have good habits in a telematics system can all raise or lower your rates by hundreds and sometimes thousands of dollars.
State Farm has a lower variance in terms of rates when it comes to the three driving infractions we looked at.
A DUI is the most costly penalty with about an $800 rise in rates. A speeding ticket is the cheapest with about a $300 rise in rates.
It's interesting to note that a DUI is actually less expensive than having a poor credit history. This is one reason why some advocates are trying to do away with credit histories for setting rates and focus solely on what drivers can control.
Coverages Offered
Ok, we know what you're thinking. "Yes," you're saying, "all of this is good." State Farm's financial ratings are strong, it has a good company history, and its rates are lower than almost all companies.
"But what about the coverages?"
We understand. In this section, we've got everything you need to know about coverages. These include State Farm's coverages, a hidden factor in rates, discounts, and its telematics system. By the end, you'll have your black belt in State Farm coverages.
Let's fire away.
Types of Coverage Offered
State Farm offers 11 types of coverages, which can be grouped into personal auto coverages, vehicle coverages, and special auto coverages.
There are six personal auto coverage options..
Two vehicle coverage options..
And three special auto coverage options.
Rideshare coverage is a little bit of an anomaly as not all companies offer that.
Factors That Affect Your Rate
There is one factor we haven't talked about that impacts your rates. That is, where you live, your state, your city, and even your ZIP code can affect your rates, sometimes drastically.
The difference in a low-costing state like New Hampshire and a high-costing state in Michigan is in the hundreds.
On the low end: New Hampshire with $818.75
On the high end: Michigan with $1,364
Within a state, like in this example about Michigan, rates differ in the thousands.
Cheapest: Saint Louis at $7,916.29
Most expensive: Detroit at $26,966.81
Even within zip codes, like these two in New Hampshire, rates can vary.
Cheapest: 03109 at $3,720.88
Most expensive: 03104 (Manchester) at $3,845.88
There are many reasons to county why rates would change based on geography.
States have different legal systems, which can lead to higher or lower rates.
Some cities have higher or lower rates of accidents and specific driving challenges.
And some ZIP codes might have higher or lower rates of vehicle thefts or property damage.
Just to name three. Where you live can save you money or cost you money.
Getting the Best Rate with the State Farm
Getting the best rate with State Farm or any company often means looking at the discounts. Unfortunately, State Farm is at the very low end for discounts, with 20. Many companies have around 30 or more.
The ones that State Farm has can be divided into personal auto, vehicle, driving, policy, and extra. State Farm has six personal auto discounts.
It has five vehicle discounts.
It has six driving discounts.
It has two policy discounts.
It has one extra discount.
While those are not many, they can add up to a significant amount of savings when it comes to car insurance.
State Farm's Programs
State Farm, like many other top companies, has a telematics program that can save you money.
It is called Drive Safe and Save, which works by you downloading the app onto your phone. It tracks numerous factors, including hard braking, fast cornering, distracted driving, and more.
You get a five percent discount just by signing up and up to a 30 percent discount, depending on how safely you drive.
Compare quotes from the top car insurance companies and save
Secured with SHA-256 Encryption
Canceling Your Policy
Get this: we know that there's nothing worse than wanting to cancel your insurance policy and not knowing how. Or worse, your company doesn't make that information easily available.
Fortunately, State Farm is very much not like this. On its website, it makes it very clear how you can cancel, depending on what is convenient for you. However, is it that simple?
The answer is rarely. There is more to canceling a policy than just calling up your company and canceling your policy. Whether it's the right time, the legal issues, and who you need to inform all play a role when it comes to canceling your policy.
That's why we've created this section. To cover it all. Let's begin.
Cancellation Fee
Generally, there is no cancellation fee with State Farm.
Is there a refund?
It also does prorated refunds, meaning that if you have a plan that lasts six months but cancel in the third month, you'll receive a refund for those three months.
How to Cancel (Step-by-Step Guide)
Canceling your policy should be easy, and sometimes the actual steps of canceling with a company are. But there are other parts, as well, that if not known can cause financial problems, legal problems, and problems with your lender.
What do you need to know?
This step by step guide covers that. Let's get down to business.
#1 Figure Out What Time Is Right for You
The first step to canceling your policy is to figure out if this is the right to cancel. There are a few reasons why you might want to cancel at this very moment. They can range from lifestyle changes to being unhappy with your current company.
You're looking to put your car into storage. If you put your car into storage, you won't be driving it, which means, logically, that you might not need insurance. However, storage units can be dysfunctional, and your car might be damaged.
In that case, your insurance agent may talk to you about comprehensive insurance.
You're moving. If you're moving, it may seem like a logical time to cancel your insurance policy. Maybe your current company isn't available in your new location or that you just feel you want a fresh start.
In that case, you'll need to watch out for the two mistakes in a later section.
You're unhappy with your current company. You don't like the customer service, your policy, or your agent. You want to switch.
In that case, you'll follow the steps to cancel in this guide or other company guides, depending on your current insurance company.
#2 Take the Necessary Steps to Cancel
With State Farm, there are three ways to cancel.
Cancel by phone by calling your State Farm agent. You'll need four pieces of information. Those are your name, date of birth, Social Security number, and policy number. Your cancellation will be effective immediately.
Cancel your policy by mail. Send a letter to Corporate Headquarters. The address is State Farm Insurance, One State Farm Plaza, Bloomington, IL 61710. You'll need four pieces of information, according to State Farm's website.
Your name, address, and phone number.
Your State Farm policy number and the date and time you want your policy to end.
If you're switching providers, your new insurer's name, policy number, and policy start date.
If you've sold your vehicle, proof of plate forfeiture, or your bill of sale.
Cancel in-person. You'll need all of the information in the cancel your policy by mail section.
#3 Avoid These Two Mistakes
Before you go through with canceling your policy, you'll want to avoid these two mistakes. Making them can cause lost money and problems with the DMV, neither of which is generally a positive thing.
First, don't just stop paying and hope your policy will be canceled. Even if your policy is canceled and you're not on the hook for a brand new premium, many companies will give you a grace period. So, even if your policy gets canceled, you'll be financially responsible for the grace period.
Second, don't cancel before having another policy in place. Unless you're moving to a place that doesn't require insurance (and in the United States, there aren't many) you'll legally need insurance before your current policy is canceled.
Your prior insurance provider is legally required to notify the DMV if you cancel.
#4 Contact any Necessary Parties
If you have leased the car, you are required to contact the lender and inform them of the insurance company change.
And you might want to inform the DMV of your new location if you're moving to share with them the new insurance policy information.
When can I cancel?
With State Farm, anytime.
How to Make a Claim
We know that situations that lead you to making a claim are stressful. Accidents, vehicle theft, vandalism can all be troublesome and cause feelings like anger, frustration, or worry.
While situations that lead to making a claim are possibly stressful, making a claim shouldn't be. Fortunately, State Farm makes the process easy.
But how often do those claims get approved? That's another situation. Let's take a closer look.
Ease of Making a Claim
State Farm gives four options for filing a claim.
Its website
Its mobile app
By calling 1-800-732-5246
By contacting your agent
You'll likely need a few pieces of information like your name, date of birth, policy number, Social Security number, and all the details about the incident.
These details can be the damage to the vehicle, any witness statements, any statements from the other driver, or other people involved in the incident. You may also be able to submit pictures through the website or online.
Premiums Written
However, having your claim be approved is more than just the ease of the process. The number of premiums written may also play a role.
State Farm is the leading auto insurer in the nation and has been since 1942. In 2018, it wrote around 42 million premiums in the auto insurance line.
These numbers come from the NAIC reports cited in the market share section back in company history.
Sometimes, more can be a problem. Because insurance companies are always concerned with underwriting expenses, more consumers can result in more claims.
This can lead to more money possibly being lost and possibly fewer claims being approved.
Loss Ratio
That question of the number of claims being filed compared to the number of claims being approved is called a loss ratio. It comes from the NAIC.
With the loss ratio, anything under .5 means that insurance companies may not be paying out on many claims. Anything above one means the company is losing money. .6 to .8 is the sweet spot.
State Farm's loss ratios for the past few years are consistently in the sweet spot.
This means that you have a higher likelihood of getting your claim approved with State Farm compared to some other companies.
How to Get a Quote Online
Getting a quote should be easy. After all, companies want your business, right?
Unfortunately, that's not always the case. When you get a quote from a company, it might be a long experience. You might be required for personal information like your driver's license number or your social security number.
And then, there might be 20 pages before getting to the quote page. Is State Farm like this?
Fortunately, no, in at least the respect of the length. There are just six pages to the State Farm quote process, covering issues like drivers, vehicles, and prior insurance. Unfortunately, you will need your driver's license number or Social Security number.
And in the case of those that have very expensive vehicles and drive them often or people who don't have a license, it may not be possible to get a quote online.
Let's get to work.
Step #1 Go to the State Farm Home Page
Type your zip code in the box on the right and click the blue Get a Quote button.
Step #2 Insert Your Personal Information into the Boxes
Information includes name, address, and date of birth.
Step #3 Add Your Vehicles
You can add up to four vehicles and include the use of each vehicle and annual miles driven.
Add specifics about the vehicle.
Add how it was financed.
Add how many miles you expect to drive on the vehicle.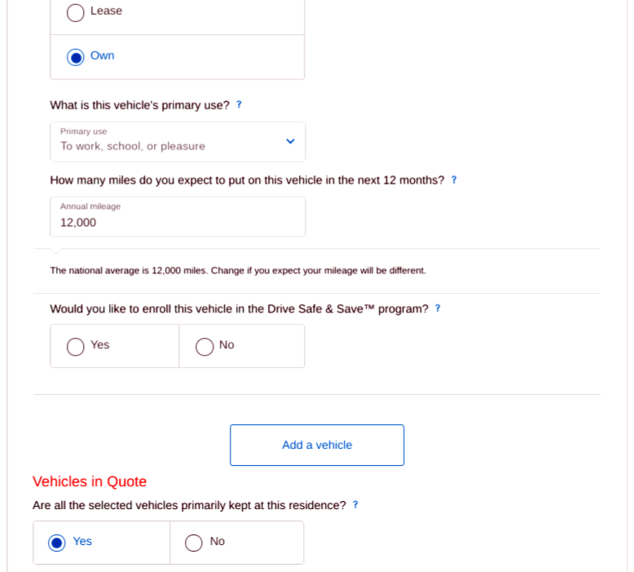 Step #4 Add Your Drivers
Include personal information. This is where you'll need your Social Security number or your driver's license number.
Add in your driver's license number or Social Security number.
Add your type of residence.
Step #5 Add Your Driving History
This includes accidents, tickets, and major violations.
Add in any license suspensions.
Step #6 Add-in Additional Information
This includes who is the owner of the car and your prior insurance company.
Add in additional household info.
Step #7 View Your Quote
Look at your quote packages, including coverage limits and deductibles.
Check out your discounts.
Save and continue later, send to an agent, or view and print your quote.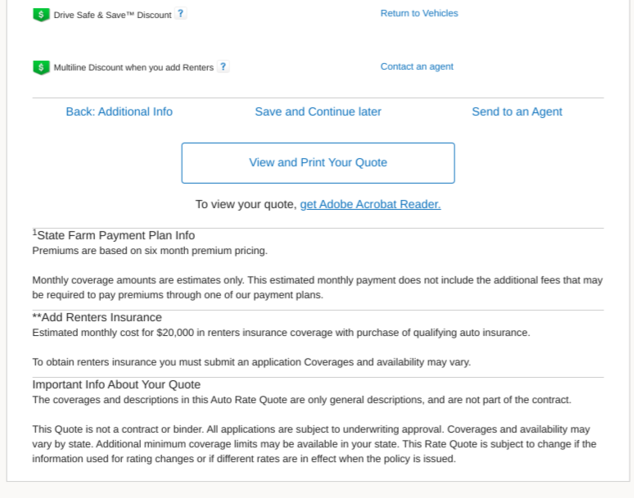 Compare quotes from the top car insurance companies and save
Secured with SHA-256 Encryption
Design of Website and App
A website is a company's online storefront, and every top 10 company has one. What is State Farm's, and what is it like? Let's find out.
Website
State Farm's website is easy to navigate, with easily accessible pages for insurance, banking, and investments. To get to the auto insurance page, first, you go to the homepage.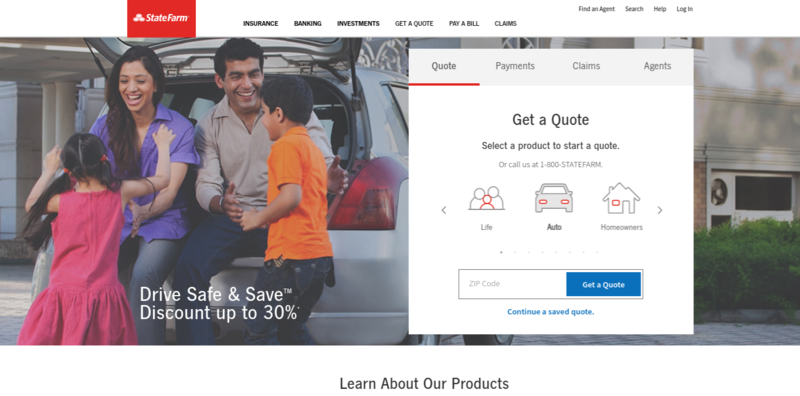 You click the insurance button, it pulls down this drop-down menu, and then you click Car Insurance on the left.
It pulls you to this page.
When you scroll down, you get this.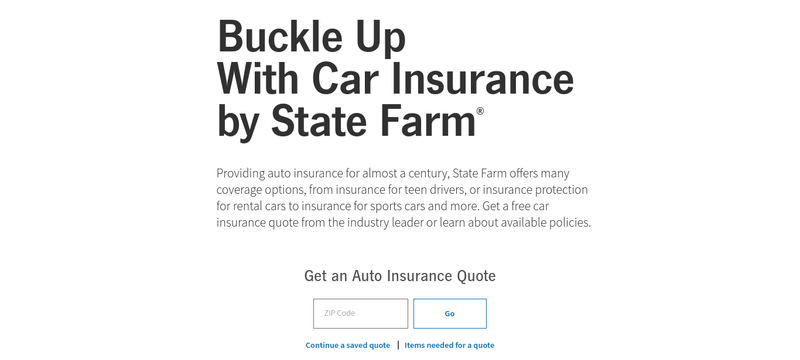 How easy can you find answers?
State Farm has a search bar at the top that makes it easy to find answers.
Is the design a plus or minus?
The design is very nice, with elements like the insurance, banking, and investment categories very organized. Getting a quote is very accessible, along with making a claim and paying a bill.
State Farm Mobile App
More and more people are using insurance apps as the primary way for them to manage their accounts, including paying bills and submitting claims.
State Farm's app is on both iOS and Google Play.
IOS rating for State Farm App: 4.8 out of 5 based on 106,000 ratings.
Reviews are mostly high on the app, with some recent reviews talking about the need to improve functionality.
One reviewer: The app takes a little time to get used to because of all the different products and services State Farm has. It looks great, very fresh and new! But for an average user that wants to get information fast, I can see why they would be frustrated
Google Play rating for State Farm App: 4.3 out of 5 based on 21,500 reviews.
Recent reviews are a mix of high and low with two five-star reviews contrasted with a one-star and two-star in the past four reviews.
One reviewer: "Works great and saves money. The only trouble I have is I keep getting messages almost daily saying I need to upgrade my app, and when I check, there is no update for the app."
How easily can you manage your account using just the app?
As listed on the Google Play app store, you can do numerous things on the app.
View and manage your insurance policies.
Quickly pay your insurance bill- even with Android Pay
View your auto insurance ID card
View your insurance policies and coverage details
Management of claims.
File a vehicle, property or vehicle glass claim
Track the status of your claim
Get assistance with tire changes, dead batteries, stuck vehicles and more
Search for repair facilities
Banking.
Transfer funds between State Farm Bank® accounts
Check your account balance and view transaction history
Deposit checks
Pay your State Farm credit card bills
Pay other bills (ex. cable bill) using Bill Pay
And other parts.
View details of your mutual funds products
Personalized reminders and notifications when you login
FAQs available in the app when you need them
Learn about our other products
According to this list, it seems pretty functional.
Is the design a plus or minus?
While there are many reviewers high on the app, some reviewers have raised concerns about the design of the app.
This includes issues with the app having too much security with too many hoops to jump through. There can be errors in parts relating to vehicles. And there are numerous times the app needs to be updated.
Drive Safe and Save
Drive Safe and Save is State Farm's telematics app, which we have already covered in brief in a previous section. Reviewers are less high on the Drive Safe and Save app compared to the regular State Farm app.
IOS rating for Drive Safe and Save: 4.5 out of 5 based on 28,500 reviews.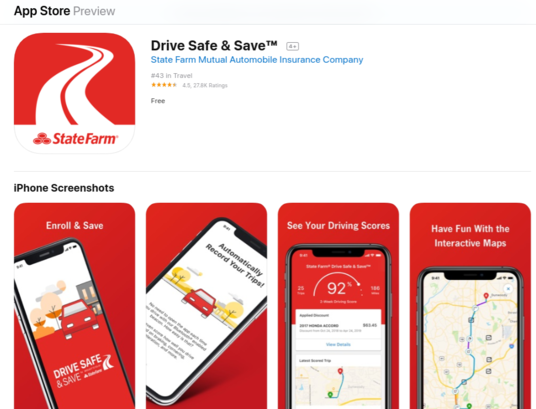 One reviewer wrote that the app was slanted to give users a lower driving score: "Also I've noticed if you're not careful on very sharp rounded turns, you will get nailed for braking or acceleration. GPS isn't accurate enough on such a turn to measure total distance. On a straight line the distance might be 20 to 25 feet but with the turn is more like 80 to 90 feet so the GPS thinks you are braking to fast in a short distance or are accelerating too fast in a short distance."
Google Play rating for Drive Safe and Save: 3.7 out of 5 based on 13,400 reviews.
One reviewer wrote that the app was a mess: "Where do I start. The scoring makes no sense. There are 5 categories each with 5 levels. You lose a single level in one category and you go from a 5 star trip to 4? And if you have to brake to stop from hitting a dog? Lose points. The multi-driver situation is a confusing mess."
What features does the app have?
According to the Apple Store, the app functions in numerous ways.
Record your driving habits using your smartphone, along with a free Bluetooth beacon we ship to you.
Review your trips on interactive maps featuring alerts for rapid acceleration, fast cornering, and hard braking.
Get tips on how to improve your driving scores based on key driving characteristics.
Trips record automatically – No need to log in or manually start the app each time you drive.
While these are great features, often in telematics systems, they can be inaccurate, as the reviews have shown.
Is the app accurate?
As some of the reviewers have noted, the app has functionality issues. While there is an overall positive rating, there are still some problems with it. Many companies continue to work out the bugs with these in real-time.
Pros and Cons
The Bottom Line
State Farm is the top company for a reason. It has great financial ratings, a low complaint index, some of the lowest rates, and multiple ways to file a claim.
However, there is a concern. That is its decrease in market share for the past four years. This has coincided with the rise in market share for Geico and Progressive, two of State Farm's major competitors.
This indicates that something might be going wrong or just not as well as in the past.
Compare quotes from the top car insurance companies and save
Secured with SHA-256 Encryption
State Farm Car Insurance FAQs
There are always frequently asked questions about companies. Here are seven about State Farm.
Who Owns State Farm?
State Farm is a mutual company meaning that, technically, policyholders of State Farm own the company. All decisions in a mutual company are there to benefit the policyholders or owners solely. Although this is not always the case when funds are misused, this is the business structure.
Are State Farm Agents Employees?
State Farm agents are independent contractors, meaning they are not employees of the company. As State Farm notes on its website, agents are essentially running their own business, which takes time. However, there is a commission structure and possible earnings for travel and helping customers.
Why Is State Farm Expensive?
When it comes to rates, much of it depends on the state you live in. This is the case for State Farm, as well as other companies. There are eight states where State Farm has above-average rates for private passenger auto. In most states, however, State Farm has lower rates than average and in some cases, much lower.
Will Start Farm Reimburse Me for Towing?
If you have emergency roadside service, State Farm will go a step further and not charge you for towing at all. You simply submit a request through the app or over the phone, and they send a contracted tow truck to come pick you and your car up. It may be possible for State Farm to reimburse a personal tow if you have emergency roadside service, but it is uncertain.
Where Is State Farm Stadium?
State Farm has three arenas. There is the State Farm Stadium, where the Arizona Cardinals of the NFL play. There is the State Farm Arena, where the Atlanta Hawks of the NBA play. And there is the State Farm Center where the University of Illinois teams play.
Who Is State Farm Spokesman?
State Farm has four major spokespeople. Green Bay Packers quarterback Aaron Rodgers and Kansas City quarterback Patrick Mahomes star in commercials aimed at football audiences. And Chris Paul and Oscar Nuñez star in commercials aimed at the NBA audience.
What do State Farm Agents Make?
According to PayScale, State Farm insurance agents make an average of $33,776 per year. The number is a little bit lower for insurance sales agents at $30,288 per year and insurance sales representatives at $29,378. Insurance claims adjusters and software developers at State Farm make double those salaries.
Ready to compare rates? Try our FREE online tool!