Most Likely to be Killed by a Drunk Driver [Age, Gender, & Location Stats]
The area where you are most likely to be killed by a drunk driver is in Washington D.C., where 51 percent of the fatal crashes there involve a driver impaired by alcohol. Our extensive study on drunk driving statistics shows that the age group that accounts for the most drunk driving deadly traffic accidents is 21 to 34-year-olds. The type of vehicle getting in the most fatal crashes involving a drunk driver is motorcycles at 27 percent.
Free Car Insurance Comparison
Compare Quotes From Top Companies and Save
Secured with SHA-256 Encryption
UPDATED: Jun 29, 2022
It's all about you. We want to help you make the right cheap car insurance coverage choices.
Advertiser Disclosure: We strive to help you make confident car insurance decisions. Comparison shopping should be easy. We are not affiliated with any one car insurance company and cannot guarantee quotes from any single company.
Our insurance industry partnerships don't influence our content. Our opinions are our own. To compare cheap car insurance quotes from many different companies please enter your ZIP code on this page to use the free quote tool. The more quotes you compare, the more chances to save.
It's a devastating scene no driver wants to see. The flashing lights, the banged-up cars, the shattered glass, and the stretcher. When it comes to drinking and driving, it doesn't matter who you are, your life is at stake. But who is most likely to be killed by a drunk driver?
In spite of the fact that driving under the influence is an avoidable crime, more than a million drivers were arrested for DUI in 2017, and more than 10,000 people lost their lives.
Years of research points to certain groups who are more likely to be killed or involved in drunk-driving crashes. Tragically, teens drinking and driving is a huge problem across the United States. These teenage (underage) alcohol-impaired drivers cause fatal crashes each year. And, they're not the only ones affected by this avoidable phenomenon.
Through our extensive analysis, we've narrowed down the most common groups by age, gender, vehicle type, and location. It's the kind of research we believe is not only eye-opening but also has the potential to save lives.
Getting into an accident, as a drunk driver or not, can raise your insurance rates. Fortunately, there are many ways to lower them. The best and quickest way is to compare live car insurance quotes from different insurance companies.
Enter your ZIP code into our free online quote comparison tool to do just that and start saving on car insurance today.
Most Likely to be Killed by a Drunk Driver
Once every 48 minutes.
That's how often people are dying in drunk-driving crashes, according to the National Highway Traffic Safety Administration (NHTSA). As you probably know, DWIs and DUIs increase your car insurance rates, but those are far from the only consequences. Each year thousands of Americans are forced to part ways with their loved ones due to drunk driving accidents.
It's why we've combed through the last five years of available fatal-crash data (2013-2017), and narrowed down the top five groups most likely to be involved in deadly drunk-driving crashes. And remember, just one crash can lead to multiple fatalities.
As we move through the list, we'll also dig deeper into the trends driving this data, as well as reveal the expert advice you need to remain safe.
#1 – Drivers in D.C., Rhode Island, & Montana (and more)
You've probably heard the expression, "location is everything." Turns out, when it comes to where the highest percentages of deadly drunk-driving crashes are occurring, some locations are experiencing more turmoil than others.
In reviewing NHTSA's most recent data, we narrowed down the top five locations in which the percentage of fatal crashes involving drunk drivers was highest. The results may surprise you:
Topping the list is Washington, D.C., with 51 percent of the city's fatal crashes involving drivers under the influence. The nation's capital was several percentage points ahead of Connecticut, which held the number-two spot at 43 percent. Rounding out the list were Rhode Island (41 percent), North Dakota (40 percent), and Hawaii (39 percent).
Here's the deal, Washington, D.C. hasn't always ranked this poorly, and 2017 wasn't the first time some of these states have had such alarming figures.
Here's a year-by-year comparison:
In our analysis, we discovered that North Dakota has consistently been ranked among the states with the highest percentage of drunk-driving crashes. In fact, North Dakota has been one of the top five states each year between 2013 and 2017.
Rhode Island, Connecticut, and Montana are all close contenders. Each of these states has ranked among the top five multiple times in this same time period.
States with the Strictest and Most Lenient DUI Laws
Could lenient DUI laws be the reason behind these state-to-state trends? To learn more, we turned to Mothers Against Drunk Driving's (MADD) annual report on state drunk-driving laws.
MADD ranks each state's drunk-driving laws based on these five categories:
Requiring offenders to use ignition interlocks, or in-car breathalyzers.
High-visibility law enforcement who perform sobriety checks and saturation patrols.
Automatically suspending the licenses of those caught driving under the influence.
Enforcing child endangerment laws when minors are found to be passengers of a drunk driver.
Penalizing drivers who refuse to take BAC tests.
As states enforce laws in each of these categories MADD will award up to one star, with five stars being the highest possible ranking.
As for the state with the lowest ranking? That distinction goes to Montana, which earned only a half-star ranking in the child endangerment category. Among MADD's many criticisms of the state of Montana is the fact that sobriety checkpoints are not conducted.
Another low-ranking state on the group's list with 1.5 out of five stars is Rhode Island. This low ranking is due, in part, to the fact that sobriety checkpoints are considered illegal in the state. Rounding out the bottom of MADD's list were Idaho, Iowa, South Dakota, and Wyoming.
As for the other states with some the highest percentages of drunk-driving crashes? Here's how they stacked up against MADD's rankings:
North Dakota received a 2.5 star ranking, scoring the lowest marks (no star) in the ignition interlock category.
Connecticut received 3.5 stars, with its lowest scores (a half star) in the license revocation, child endangerment, and the no refusal categories.
Finally, Washington D.C. received 3-stars, scoring the lowest marks (no stars) in the no refusal category.
On the flip side, topping MADD's list with 4.5 stars is the state of Arizona. Arizona. Experts have long regarded Arizona as having some of the strictest DUI laws in the country. Among the state's more stringent requirements? Requiring first-time offenders have an ignition interlock device installed in their vehicles for one year, and a one-year license suspension for drivers who refuse a blood or breath test.
Other states topping MADD's list include Maryland, Mississippi, Nevada, and West Virginia.
#2 – Drivers in their 20s and 30s
Newsflash! They are not in their teens, and they are not elderly.
Years of research show that drivers in their 20s and their 30s are more likely to be involved in deadly drunk-driving crashes than any other age group.
But at what point in their 20s and 30s do these drivers pose the greatest risk? In analyzing NHTSA crash data, we discovered that:
The largest percentage of drivers with a BAC of .08 or higher between 2013 and 2017 was between the ages of 21-24.
The second-largest percentage of drivers with a BAC of .08 or higher in the same time frame was between 25-34.
Researchers say these figures represent drivers who were killed, as well as drivers who survived.
Here's a closer look at NHTSA's most recent data from 2017:
In reviewing these statistics, it's clear – no matter how many drivers were represented in other age groups, the percentage of drunk-drivers involved in deadly crashes was still highest among 21-34 year-olds. This age group accounted for 40.5 percent of all drivers involved in fatal crashes with a BAC of .08 and higher. We also discovered that more drivers between 25 and 34 are hitting the road drunk than any other age group.
The Problem with "Buzzed" Driving
The fact that people between the ages of 21-34 are more likely to be involved in deadly drunk-driving crashes is a disturbing trend, one that experts have been trying to combat for years. However, according to the Insurance Information Institute (III), there's a problem! And it all boils down to perception.
Experts say drivers between the ages of 21 and 34 are often the "least responsive" to arguments against drunk driving.
What's more, is that authorities fear too many drivers in this age group don't believe their behaviors are a danger to themselves or others. It's why a number of agencies have turned to mass media campaigns to help change the mindset of young drivers. Perhaps one of the best-known is the Buzzed Driving is Drunk Driving campaign, a joint effort of the Ad Council and the NHTSA.
It all began with a case study in the early 2000s. At the time, data showed that drivers between the ages of 21 and 34 – predominantly men – were responsible for nearly 60 percent of alcohol-related car crashes. After conducting several focus groups with drivers in this age group, researchers reached a series of shocking conclusions:
Drivers surveyed admitted to drinking and driving, saying they didn't intend to harm others.
Drivers confessed to drinking and driving multiple times "without getting in trouble."
Drivers felt "invincible" or "overly optimistic" about the amount of control they had.
Drivers often minimized their behavior as being "just buzzed" or just having "a few" drinks.
From there, the Ad Council joined forces with the NHTSA in launching "Buzzed Driving is Drunk Driving." The goal of this national campaign was to not only highlight the dangers of buzzed drinking, but to also inspire drivers to take responsibility for their actions.
Fast forward more than a decade later, and both groups continue to rely heavily on this message. It appears to slowly be making a difference.
Ad Council research shows that about half of all adults ages 21 and older are familiar with the campaign, with an increasing number of drivers choosing not to get behind the wheel after drinking.
And if viewership is any indication of the campaign's reach, it can be seen with this chilling "No Big Deal" commercial. The short, yet powerful, ad has garnered well over 14 million views on YouTube alone.
However, prevention doesn't stop with advertisements. Dozens of states have taken significant steps in holding more people accountable for drunk driving . . . even if they're not the ones getting behind the wheel. According to the III,
42 states, along with Washington, D.C., have measures in place that hold commercial liquor servers legally responsible for the damage, injuries, and deaths caused by the drunk drivers they served.
A chilling example of these laws in action can be seen in this news report. Here, we learn of a Houston bartender charged with over-serving a customer who later got behind the wheel, killing an 18-year-old girl. Just how much alcohol did that bartender serve? Investigators say, 11 beers.
#3 – Motorcycle Riders
There's no other way to say it.
Experts agree that a disproportionately high number of motorcyclists are involved in crashes and fatalities.
Our research revealed that between 2013 and 2017, the percentage of drivers of different vehicle types involved in fatal crashes with a BAC of .08 or more was highest among motorcyclists.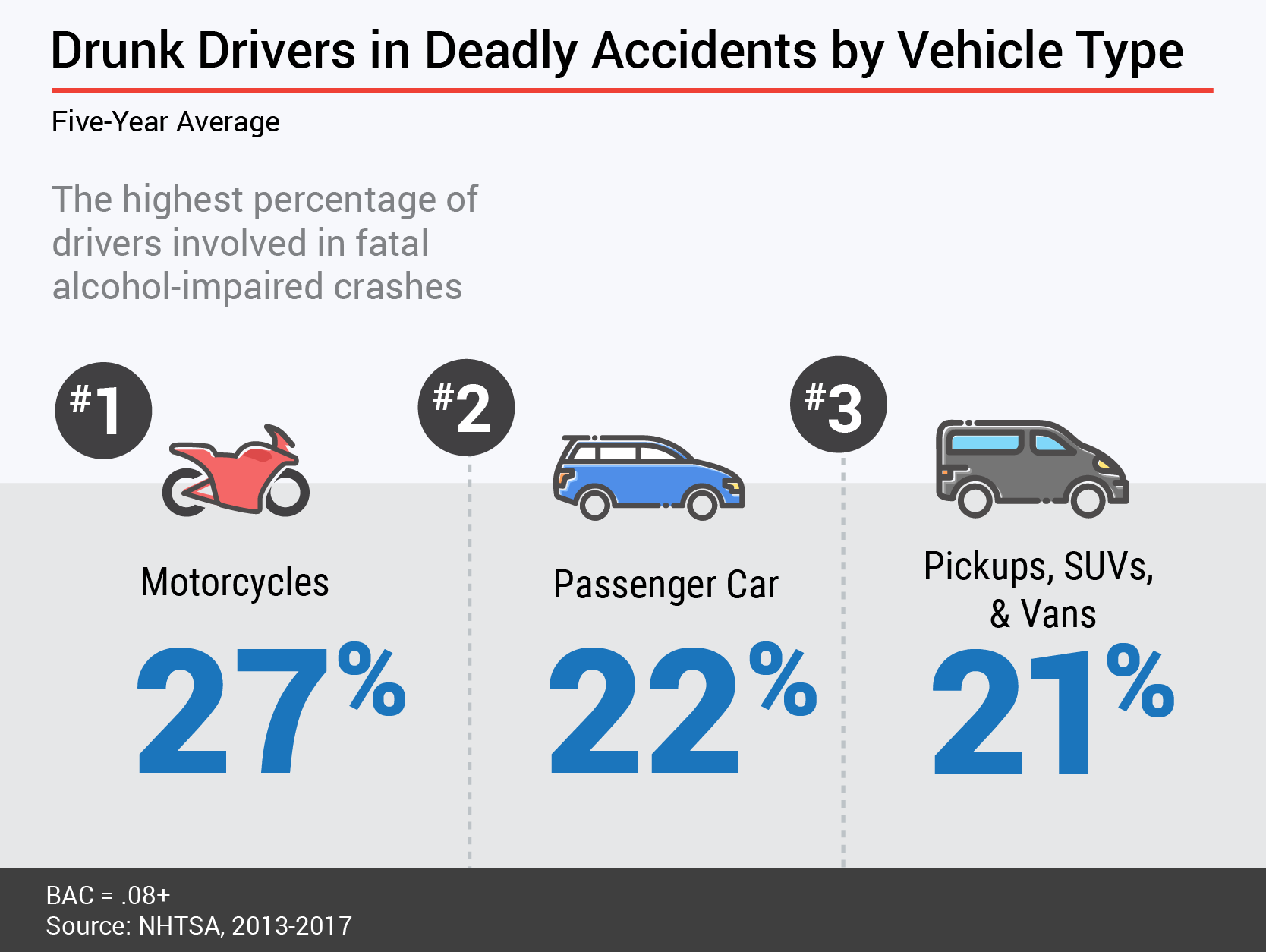 What makes these stats particularly noteworthy, is that the number of motorcyclists involved in drunk-driving crashes pales in comparison to the number of those driving other types of vehicles.
In 2017, just over 1,400 motorcyclists with a BAC of .08 and higher were involved in deadly crashes. This is a far cry compared to the 4,297 drivers of passenger cars and 3,962 drivers of light trucks also involved in deadly crashes. Yet, here's the kicker:
The percentage of intoxicated motorcyclists involved in these deadly crashes is still several percentage points higher than any other group of drivers represented in this data.
And here's another shocking statistic from the Insurance Institute for Highway Safety (IIHS): 49 percent of motorcyclists killed at night (between 9:00 P.M. and 6:00 A.M.) in 2017 had a BAC of .08 or greater.
Their numbers undoubtedly demonstrate the inherent dangers of drinking and driving, especially on a motorcycle.
Risk Factors Affecting Motorcyclists 
Harsh reality: Experts with the Insurance Institute for Highway Safety (IIHS) say when motorcyclists crash, they are more likely to be injured or killed. These risks come as a result of the safety-related challenges motorcyclists face on a regular basis:
Less protection
Less stability than passenger cars
Increased vulnerability to adverse weather and road conditions
Less visibility to other drivers
Add alcohol to the mix, and these risk factors become magnified. It's why the NHTSA recently worked to mobilize law enforcement with its "Ride Sober or Get Pulled Over" campaign. Through this effort, the NHTSA not only urged state agencies to increase their enforcement efforts, but the administration also worked to raise public awareness through a series of provoking ads highlighting the dangers of drinking and riding.
By driving home this message with both local and national audiences, officials believe they can ultimately "help reduce the number of drunk drivers on the roads and save lives."
#4 – Male vs. Female Drivers
Year after year, statistics point to a startling trend that men are killed in far more fatal car crashes than women. Given these startling stats, it should come as no surprise that male drivers are more likely to be involved in deadly drunk-driving crashes than female drivers.
Our research revealed that the average percentage of drivers involved in fatal crashes with a BAC of .08 or higher over a five-year span was highest among males—and by a significant margin.
When looking at data specific to 2017, we see these trends remain consistent. So much so, the number of men driving with a BAC of .08 or higher was nearly four times that of females:
The data ultimately begs the question, why are more men driving under the influence?
Why are more men involved in deadly drunk-driving crashes?
When it's all said and done, experts say what often distinguishes men and women behind the wheel are their behaviors. For instance,
Men tend to drive more miles than women.
Men often engage in riskier driving behaviors such as not wearing seat belts, following too closely, or speeding.
Given these riskier driving behaviors, crashes involving male drivers tend to be more severe than those involving women.
Where women are more likely to purchase safer and more reliable cars, men tend to be more focused on performance style and technology.
What's also concerning is that research from the Centers for Disease Control and Prevention (CDC) shows that men are more likely than women to drink excessively.
"Excessive drinking" is a term that encompasses binge drinking (consuming five or more drinks on a single occasion) as well as heavy drinking (consuming 15 or more drinks a week). That being said, CDC studies reveal that men are twice as likely to binge drink than women. They also reveal that about 23 percent of adult men reported binge drinking five times a month, averaging eight drinks per instance.
Keep in mind, these statistics don't negate the inherent dangers tied to women and drinking. In fact, the CDC shares that,
"…[U]pon drinking equal amounts, women have higher alcohol levels in their blood than men, and the immediate effects of alcohol occur more quickly and last longer in women than men. These differences also make it more likely that drinking will cause long-term health problems in women than men."
Bottom line? Drinking and driving is a dangerous risk, and its effects don't discriminate across genders.
#5 – Children Ages 14 and Under
They're among the most vulnerable members of our society. Yet when it comes to how often children are being killed in drunk-driving crashes, the numbers are alarming.
What we know is this: An average of 205 children ages 14 and under were killed in drunk-driving crashes between 2013 and 2017.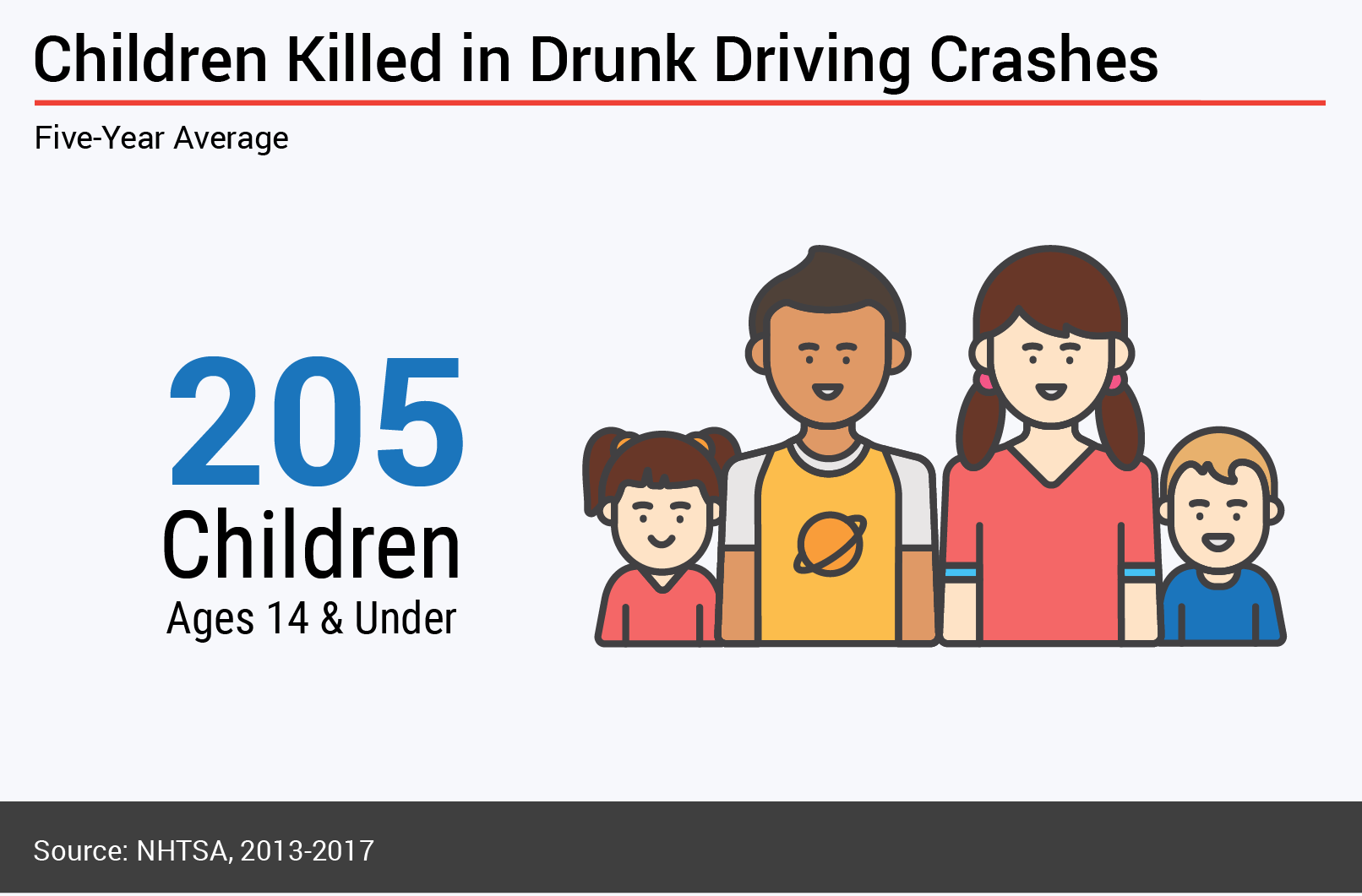 What we also know is that the number of alcohol-related fatalities has steadily increased since 2015:
This data reveals that as the number of fatalities among children has increased, so has the overall percentage—climbing from 16 percent in 2015 to 19 percent in 2017. What's also of note, is that the number of children killed in these crashes hit a five-year high in 2017, at 220 fatalities.
Unfortunately, there's more.
A closer look at the statistics reveals that year to year, more than half of these children were occupants in cars of drivers who had a BAC of .08 and higher.
We're breaking down the stats below:
In 2016 and 2017, a staggering 54 percent of all children killed in alcohol-impaired crashes were passengers of drunk drivers. A closer look at these stats also reveals that the number of children killed as occupants of drunk drivers increased 22 percent from 2015 to 2017.
Drunk Driving and Child Endangerment Laws
Make no mistake about it . . . Driving while under the influence is already a serious crime. But in many states, the stakes become much higher when drunk drivers are found to have children as passengers.
Legal experts with Nolo share that having a minor in your car at the time of a DUI can result in stiffer penalties, ranging from higher fines to more time behind bars. For example, in Florida, a first-time DUI offender faces a maximum fine of $1,000, and maximum jail time of six months.
But with a child in the car, that maximum fine doubles to $2,000, and the maximum jail time increases to nine months.
Here's what else you need to know:
Many states will go a step further, charging drivers with child endangerment. This can lead to swift and severe consequences, including the possibility of the child being taken into custody.
Child endangerment can be classified as a misdemeanor or a felony, depending on where you live. But for some, a misdemeanor charge isn't enough.
This debate was amplified in wake of the June 2019 arrest of Patrick Conway, former President and CEO of Blue Cross and Blue Shield of North Carolina. Conway was charged with driving while intoxicated and misdemeanor child abuse for driving drunk with his two young daughters in his car. In a statement condemning his actions, MADD advocated for stricter penalties, demanding that every state
"pass laws that make this form of child abuse a felony crime." 
Compare quotes from the top car insurance companies and save
Secured with SHA-256 Encryption
Drunk Driving: Understanding the Risks
The question remains . . . if people know that drinking and driving is dangerous, why do they continue to do it? Joe Hoelscher, the managing lawyer at Hoelscher Gebbia Cepeda PLLC, says that many drivers simply have a false sense of security.
"The more someone makes a bad decision and gets away with it, the more likely they are to make that decision again," explains Hoelscher. "People don't think about the consequences, especially once they've been drinking…Intoxicated people don't evaluate risk well and often think they're okay."
Experts with NHTSA warn this kind of thinking is dangerous, given the limited amount of alcohol it takes to impact a driver's ability to concentrate. Here's a closer look at how varying amounts of alcohol affects drivers:
BAC Levels & Effects on Driving
Blood Alcohol Concentration (BAC)
Effects on Driving
0.02
Decreased visual functions
Decreased ability to perform two tasks at once
0.05
Reduced coordination
Lessened ability to track moving objects
Difficulty steering
Decreased response to emergency driving situations
0.08
Reduced concentration
Short-term memory loss
Inability to control speed
Impaired perception
0.1
Decreased ability to maintain lane position and to brake
0.15
Significant impairment in vehicle control,
attention to driving,
and in visual and auditory information processing
#blank#
Even at the lower end of the BAC scale, drivers can expect to experience impaired thinking, reasoning, and muscle coordination. After all,
At a BAC of .02, drivers are already experiencing a decreased ability to perform two tasks at once, a crucial skill for any defensive driver.
At a BAC of .05, drivers will face difficulty steering, less coordination, and a decreased ability to track moving objects.
At a BAC of .08, the point of legal intoxication, drivers experience short-term memory loss, reduced concentration, and impaired perception.
What it all boils down to, is this:
As BAC levels increase, so do the risks—including the ability to steer, track moving objects, remember what's going on, and brake when appropriate.
It's the kind of behavior that Hoelscher argues can lead to long-lasting and life-changing consequences for the driver.
"Of course, where DWI leads to significant injury or death, the folks impacted may never really recover," he says. "The huge financial costs can affect entire families…It can affect your ability to drive, to obtain (car) insurance, to maintain employment, or advance in your career."
How to Spot Drunk Drivers on the Road
Learning to recognize the behaviors of drunk drivers will be key in remaining safe while on the road. A few of the tell-tale signs will include:
Swerving
Driving on the wrong side of the road
Abrupt turns
Sudden acceleration
Driving slower than 10 miles below the speed limit
Extremely wide turns
Sudden and erratic braking
Tailgating
Straddling the center lane
Slower-than-normal responses to traffic signals
Too many near-misses with objects or other cars
What should you do if you encounter this kind of behavior? MADD advises taking these three steps:
Put as much distance as you can between yourself and the other vehicle. Do not try to pass the vehicle or get the driver's attention, as these actions can lead to a crash
Without putting yourself in danger, make note of the vehicle's distinguishing features – license plate, make, model, color, etc.
Pull over and call 911. Give dispatchers as much information as you can, including the exact location of the vehicle and where the driver appears to be heading.
Another key to avoiding collisions with drunk drivers will be in paying close attention to when you drive.
According to the NHTSA, the rate of alcohol impairment among drivers involved in fatal crashes at night was 32 percent in 2017—a figure 3.6 times higher than the rate of drunk drivers involved in fatal crashes during the day.
Experts urge drivers to take extra precaution during late-night hours (particularly after midnight) when bars and clubs are closing, and drivers who have been drinking are hitting the road.
Ask the Experts: Tips to Avoid Drinking and Driving
"Perhaps your plan is to attend a party. Head to a nightclub. Or, celebrate a friend's birthday. Whatever the plan is, here's what you need to keep in mind —
As long as the possibility of consuming alcohol is imminent, the most important thing you can do is safeguard yourself – and others – from the effects of drinking and driving.
We sought out the advice of experts familiar with the effects of drinking and driving. From attorneys to substance abuse counselors, here are their top tips:
"In years past, the focus to avoid the possibility of drinking and driving had been based on the concept of finding a designated driver. While this remains an excellent and practical solution, technology has opened up new avenues to drink responsibly and safely. Specifically, with the advent of numerous car-sharing services such as Uber or Lyft, there is no longer any reason or any excuse to get behind the while after you've been drinking.
The best idea is to plan ahead. Even though you may not have any intention of drinking heavily, do yourself (and everyone else on the road) a huge favor and plan on taking an Uber out anyway. This way, you end up with the freedom and flexibility to enjoy an extra drink or two without any concern or worries about the safety of yourself or others. Also, if you plan ahead, you may be able to share an Uber or Lyft or even hire a car service.
You may find it very inexpensive to share the cost of a chauffeur-driven SUV among six of seven friends, and besides – there is a nice 'lash factor' when you pull up to the club and your driver jumps out to open your door! When it comes to avoiding drunk drivers on the road, the two best things to watch are the map and the clock. Specifically, and not surprisingly, when mapping the incidence of alcohol-involved collisions progresses as you might expect.
In Texas, the incidence of alcohol-involved collisions starts to rise around the time folks get out of work, then stay steady (and alarmingly high) from approximately 9:00 p.m. to 2:00 a.m.
There is an alarming spike from 2:00 a.m. (when nightclubs generally close in Texas) to about 3:00 a.m. as those who have likely been drinking for hours make their way home.
To give some idea of the variation based on time of day, there are approximately 20 times as many alcohol-involved motor vehicle accidents between 2:00 a.m. and 3:00 a.m. than between 9:00 a.m. and 10:00 a.m. I've told my son, who is in college, that if he is not on his way home before 2:00 a.m. to please find a place to 'crash' or otherwise stay put until at least 3:00 a.m.
The other obvious way to avoid drunk drivers is to avoid the places where they drink. That is to say, all towns have clusters of bars and nightclubs, and it truly is best just to steer clear of these areas, especially during weekends and 'peak drinking hours.' Keep in mind, however, these drunk drivers live and drive where you do, so even if you stay completely away from these 'party zones,' you still face significant dangers of an alcohol-involved collision during the peak times outlined above."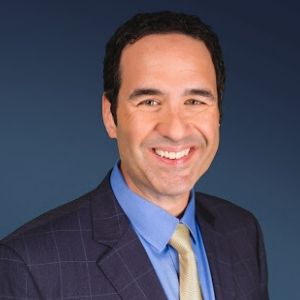 Stewart J. Guss is an attorney and founder of the Stewart J. Guss Personal Injury Law Firm.
Guss has been handling catastrophic injury claims nationwide for more than 20 years.
---
"Plan your transportation before you drink. In fact, create a plan to avoid getting overly intoxicated before you drink. Once you start drinking, you may be making bad decisions so plan ahead and be conscious of the potential issues that intoxicated you may need to confront. I'm a huge fan of ridesharing…As a general rule, if you're consuming more than one standard serving of alcohol an hour, you should avoid driving.
Avoid driving during the club rush (1:00 a.m. – 3:00 a.m.) and holidays like New Year's. Generally, just be an aware driver. Look ahead in traffic, not just at the car ahead of you and check your mirrors. If you see someone driving erratically, then give them room and avoid passing them, if possible.
We want to create a habit of responsible drinking. As a practical matter, just an arrest for DWI has huge and sometimes long-lasting consequences. There's a big spread of consequences, depending on the unique circumstances of each case. An arrest for DWI will typically lead to a license suspension, increased insurance costs, and possibly many months of monitoring by an ignition interlock device."
Joe Hoelscher is the managing lawyer at Hoelscher Gebbia Cepeda PLLC.
Hoelscher is an award-winning criminal and family law trial lawyer.
---
"The best way to avoid drunk driving is to have a plan . . .
Appoint a designated driver within your group or opt to leave the car at home and take an Uber or taxi…'Buzzed' driving has dangers of its own. Even with a BAC of just .05, drivers can expect to see a decline in visual function, a limited ability to multi-task, and reduced coordination."
Jake McKenzie is a Content Manager with Auto Accessories Garage.
Auto Accessories Garage is a family-owned and operated company based in Illinois.
---
"Drunks tend to have a hard time seeing the road ahead of them; so, oftentimes they will closely follow the taillights of the car in front of him. The thing is, you do not want to be in front of a drunk driver. It is far safer to be behind where you have the ability and good sense to avoid a collision.
Pull over, let them pass you, and call the police before they kill someone.
Someone way smarter than me said, 'Never argue with a fool, other people won't know the difference.' Nowhere is that truer than in traffic. Be nice. Consider the other guy. Leave early enough that you are not in any kind of hurry. Maybe the other driver is having a bad day. Maybe not. It could be that he is racing away to the next crash site or hospital. Let him (or her) get there first.
Finally, consider your role in life. What I am is a responsible person with a family, career, pets, hobbies and interests to attend to when I get wherever it is I am going that day. I am not the arbiter of good taste, driving skill or a police officer. So, we need to remember those things when we are driving."
Christopher H. Gerhart is a Substance Abuse Counselor.
Gerhart has worked with DWI courts in TX & AR and was a DUI evaluator in GA.
The Bottom Line: Drunk Driving Demographics
We can't say it enough — drunk driving is 100 percent preventable.
The moment any driver makes the choice to get behind the wheel while under the influence, countless lives are put at risk. Unfortunately, some will never live past this dangerous decision.
However, as more are becoming aware of these trends, attitudes and actions are changing. Perhaps the most promising evidence is the fact that drunk-driving fatalities continue to decline nationally.
In the end, the most important thing anyone can do in the fight against drunk driving is to take personal responsibility for their actions.
Should you plan to drink, always have a plan in place that involves someone other than you driving. If you encounter a drunk driver on the road, quickly move out of harm's way and contact your local authorities.
One person lost to drinking and driving is one too many. But by making one good decision at a time, lives can be saved.
Compare quotes from the top car insurance companies and save
Secured with SHA-256 Encryption
Methodology: Most Likely to be Killed by a Drunk Driver
The premise behind this drunk-driving study was simple — to create more awareness of the dangers and risks tied to driving under the influence of alcohol. We were especially interested in using statistical analysis to discover which groups of people are more likely to be killed by drunk drivers, and who is most likely to drive drunk.
We began by turning to the U.S. Department of Transportation's National Highway Traffic Safety Administration (NHTSA) as our primary source of data.
We specifically looked to the NHTSA's National Center for Statistics and Analysis (NCSA), and reviewed its five most recent editions of the Alcohol-Impaired Driving Traffic Safety Fact Sheet (2013 to 2017). Data contained in these fact sheets are sourced from NHTSA's Fatality Analysis Reporting System, or FARS.
With data in hand, we focused primarily on the percentages of fatal accidents involving drivers with a blood alcohol content (BAC) of at least .08, as this is the legal level of intoxication in all 50 states. As we reviewed this data from year-to-year, we saw trends emerge in the following categories:
Specific states. In reviewing the last five years of data, we noticed a handful of states, and the District of Columbia, with consistently high percentages of drunk drivers involved in fatal crashes.  In some instances, certain states had percentages exceeding 40 or 50 percent.
Drivers by age, gender and vehicle type. Specifically, those between the ages of 21 and 24, 35 and 34, motorcycle riders, and male drivers.
Children ages 14 and under. We observed an increase in the percentages of children being killed in alcohol-impaired crashes from 2015 to 2017.
It was from these five areas we chose to focus our analysis, seeking expert research that shed more light on these findings. By highlighting these trends, our intent was to not only increase awareness, but to also do our part in positively impacting attitudes and behaviors toward drinking and driving.
Accidents, drinking and driving, getting a ticket are all situations that can increase your car insurance rates. Plug your ZIP code into our free quote tool to compare auto insurance quotes between companies. The quotes are personalized for your auto insurance needs and comparing quotes is the easiest way to save.