Can you have car insurance in two different states?
You cannot have car insurance in two different states unless you are a college student with both a campus address and a permanent address. Having auto insurance in two different states is considered fraud since car insurance companies use location to determine rates. If you can legally claim residency in two states, you have the luxury of choosing which state to register your vehicle. We recommended entering your ZIP code below to see which state has cheaper rates before you decide where to buy your policy.
Free Car Insurance Comparison
Compare Quotes From Top Companies and Save
Secured with SHA-256 Encryption
UPDATED: Jun 29, 2022
It's all about you. We want to help you make the right cheap car insurance coverage choices.
Advertiser Disclosure: We strive to help you make confident car insurance decisions. Comparison shopping should be easy. We are not affiliated with any one car insurance company and cannot guarantee quotes from any single company.
Our insurance industry partnerships don't influence our content. Our opinions are our own. To compare cheap car insurance quotes from many different companies please enter your ZIP code on this page to use the free quote tool. The more quotes you compare, the more chances to save.
Things to know...
Your car insurance needs to be purchased and maintain in the state where the vehicle is registered
Since you can't carry two different registrations on a car, you should never have insurance in two different states
Buying insurance in a state other than the state where the car is registered will not satisfy the other state's rules
If you own two vehicles that are registered in two different states, it's possible to buy insurance in each
You should always review residency laws when you're determining which state you'll register your car in
You have every right to own homes in multiple states. If you like to experience different parts of the country during different seasons throughout the year, buying property spread out from west coast to the east coast is a great way to change your scenery.
You may have to deal with multiple property taxes and renting out your homes while they aren't being occupied, but it is a way of life that many people enjoy.
If you do purchase properties thousands of miles from one another, you'll more than likely need multiple vehicles.
If that's not a reasonable solution, you'll at least have to drive your dependable vehicle from one state to the other when you're going between the two. This creates a unique need for car insurance in two states.
Compare car insurance quotes so you don't overpay for the coverage you need. Enter your zip code above to get started.
Before you go off and buy two separate policies on the same car, here's what you should know.
Where will the car be registered?
Cars can be shipped from one state to the other for a fee. This is a solution for people who don't want to drive cross-country but who also don't want to buy a second car that they will only use half of the year.
Where your vehicle is going to have to be insured is entirely dependent on where the vehicle is going to be registered.
All of the insurance laws that you have to abide by pertain solely to the rules in the state where the car is registered. It's not possible to satisfy the compulsory laws and multiple states at one time because they all differ.
Compare quotes from the top car insurance companies and save
Secured with SHA-256 Encryption
Registration Rules for People With Dual Residency
You'll have to decide where you're going to be registering your car before you can even start shopping for an insurance policy in the right state.
If you establish residency in both states, you might have the freedom to choose which state's plates you're going to be putting on your car. Whatever decision you make will dictate where you can and should buy insurance.
The registration rules for residents vary from state to state. An issue presents itself when you are technically a resident in two states. If you can show that you have a domicile in the state, you should be able to register your vehicle there.
Some states, however, will only issue tags for vehicles that will be present in the state for 184 days or more out of the year. Keep this in mind as you're setting up appointments to apply for your tags.
Buying Insurance in the Wrong State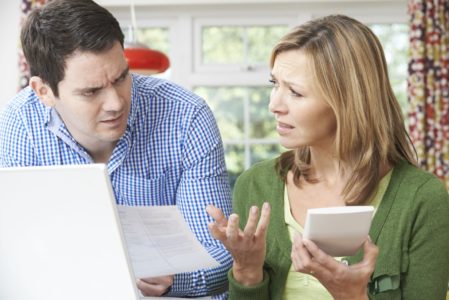 You should only buy an insurance policy on the vehicle from an insurer that is licensed to do business in the state where your tags were issued.
You might think that the coverage this the same regardless of where you buy your insurance, but that's not the case. Every state has a different set of rules.
By law, the insurance must be written by an insurer with a license in the state or the coverage cannot satisfy state law.
Basically, it will appear as if you have no insurance if you have the wrong Insurance in the wrong state. If the DMV feels that you don't have coverage, he'll be paying penalties and dealing with notices that can be a major hassle.
It's best to just follow the rules from the beginning to avoid any issues.
Compare Cheap Car Insurance Quotes
Compare quotes from the top car insurance companies and save
Secured with SHA-256 Encryption
Will my insurance cover me when I'm located in the other state?
If you buy your policy in the correct state and you're on your way to stay in your other home, your insurance will still protect you. As long as you don't intend to transfer your registration to the new state while you're there, coverage will still apply when you cross over state lines.
Some insurance companies frowned upon clients who go from state to state with their vehicle.
You will need to look for an insurer that targets snowbirds and other dual residents so you don't run into any problems when it comes to garaging your vehicle outside of the state where it's registered.
Be upfront and honest with your agent so that you don't have any problems if you ever need to file a claim.
Compare quotes from the top car insurance companies and save
Secured with SHA-256 Encryption
Will it hurt you to buy insurance in both states anyway?
There is really no point of buying two separate auto insurance policies in two separate states on the same vehicle. If you wind up doing that, it will be a waste of your money. One of the policies won't even be ignored because it will be outside of the state where it's registered.
While you can't get into legal trouble for simply carrying two policies, if you file a claim on both you could be in for some legal turmoil. Insurance policies have provisions built into them to prevent unjust enrichment.
Unjust enrichment is when somebody files two claims for the same damage to the same property.
What is unjust enrichment?
Instead of receiving what they need to repair the property, the profit from the loss because they receive double the benefit.
If you are caught doing something like this with two separate policies in two separate states, the provider could come after you and claim that you're guilty of insurance fraud. This is why the industry is monitored so closely.
If you have two policies on the same car, both insurers could drop you before you even file a claim.
Instead of going out and paying double the premiums to cover your vehicle that's being driven from state-to-state, for you to do your homework and buy insurance in the right state from the start.
If you don't have the right insurance right now, it's time to activate coverage.
Get online
Get instant quotes
Find the best deal for coverage in the right state
Enter your zip code below to get quotes right now.
Editorial Guidelines: We are a free online resource for anyone interested in learning more about car insurance. Our goal is to be an objective, third-party resource for everything car insurance-related. We update our site regularly, and all content is reviewed by car insurance experts.