What Qualifies as Good Car Insurance
What qualifies as good car insurance is a combination of coverage levels, premium costs, and discounts offered. Good auto insurance is subjective and will be a matter of personal preference for every driver. That's why comparison sites like this one are important. You can compare multiple car insurance companies in order to find the best auto insurance policy for you.
Compare Cheap Car Insurance Quotes
Secured with SHA-256 Encryption
UPDATED: Oct 30, 2020
It's all about you. We want to help you make the right cheap car insurance coverage choices.
Advertiser Disclosure: We strive to help you make confident car insurance decisions. Comparison shopping should be easy. We are not affiliated with any one car insurance company and cannot guarantee quotes from any single company.
Our insurance industry partnerships don't influence our content. Our opinions are our own. To compare cheap car insurance quotes from many different companies please enter your ZIP code on this page to use the free quote tool. The more quotes you compare, the more chances to save.
Editorial Guidelines: We are a free online resource for anyone interested in learning more about car insurance. Our goal is to be an objective, third-party resource for everything car insurance-related. We update our site regularly, and all content is reviewed by car insurance experts.
What qualifies as good car insurance is more often a matter of opinion, rather than a finite set of criteria against which an insurance company or a particular policy can be measured. Beauty is in the eye of the beholder as the old saying goes. What appears to be a good policy for one insurance customer may not work out so well for another.
Compare car insurance companies side-by-side when you add your ZIP to the FREE search box on this page!
Each individual's circumstances are different. Therefore, his or her needs for car insurance can be dramatically different as well. What's good about car insurance is that it can be narrowed down to several categories: good coverage, good price, and good customer service, with the most important being good coverage.
Minimum Liability Coverage
For some individuals good coverage means matching the state minimum requirements for liability coverage with no additions. This certainly meets the legal obligations of the state in question, but minimum coverage will often fall very short in covering the expenses of even a minor injury accident for which the insured is at fault.
Florida has the lowest required liability coverage in the nation, 10/20/10 which amounts to only $10,000 coverage for a single person involved in a traffic accident and $20,000 coverage for two or more injured people. The last number in the trio indicates that a maximum of $10,000 coverage is available for property damaged in an accident.
Unlikely as it may seem, California also has one of the lowest required coverage formulas in the country, 15/30/5. At the same required coverage levels are Pennsylvania and New Jersey. Not far behind, with minimum coverage amounts of 15/30/10 are the states of Delaware, Arizona, and Nevada.
Compare quotes from the top car insurance companies and save
Secured with SHA-256 Encryption
Good Coverage
According to the editors of Consumer Reports, motorists are urged to purchase car insurance policies with coverage amounts of 100/300/100.
Understand that the liability portion of your policy pays not only medical expenses for an injured party in an accident, but rehabilitation expenditures and if necessary funeral expenses. The added expense of increasing your coverage to these amounts, about 10% is well worth the added protection and financial security that these coverage amounts provide.
Those parties covered in an accident include yourself, your passengers, and the driver of the other vehicle, their passengers, and any pedestrians that might have been involved. This coverage also covers potential jury awards for pain and suffering and the costs of legal representation should you be sued for damages.
If you have more to lose, such as real estate, pension and retirement funds, and other investments, Consumer Reports asks you to consider even higher limits of $250,000 and $500,000. For those individuals with a high net worth should consider a separate umbrella type policy with limits of at least $1 million.
In order to be covered for most any eventuality, Consumer Reports recommends property damage coverage of $100,000. The other coverage that Consumer Reports considers as mandatory is uninsured or underinsured motorists. This coverage covers necessary expenses when the other party to an accident has little or no liability coverage.
Additional Coverage You'll Likely Want or Need
Collision coverage pays to repair or replace your damaged vehicle no matter who is at fault. This coverage is generally required on newer leased vehicles and by bank that hold a security interest in your new or used vehicle in the form of an auto loan.
Comprehensive covers your car in case of loss or damage due to a natural event such as a storm, fire, or flood or damage that may be cause by vandals. While collision insurance generally required payment of a deductible, usually between $200 and $1,000, comprehensive most often covers the full repair bill.
You may want to add personal injury protection coverage to your policy in case you are out of work and unable to collect wages due to an injury accident.
If you have only a basic health insurance policy, you may also wish to consider coverage for medical payments as part of your auto policy. This also protects your passengers and others involved in an accident that may not have any health coverage.
Other good coverage to have is roadside assistance and rental reimbursement. Some insurance companies provide these two items in their standard policies. For other insurance providers, there may be additional fees tacked on to your auto premiums for these special services.
The Likelihood I'll Be in an Auto Accident
According to insurance industry analysts, an average motorist will be involved in an accident once every 17.9 years. Over the course of a lifetime, the typical driver will have three to four accidents. This information was provided by Fox News.
According to the National Safety Council, there are more than 10 million motor vehicle accidents every year. Fortunately in 2009, just three out of every thousand traffic mishaps resulted in a fatality. Car crashes however are likely to be more costly than ever.
Compare quotes from the top car insurance companies and save
Secured with SHA-256 Encryption
How Much Accidents Cost
The National Safety Council provides the public with comprehensive statistical data regarding motor vehicle accidents across the country. The cost factors taken into account are lost wages and productivity, medical and administrative expenses, damages to the vehicle and other property and employers' uninsured costs.
The NSC estimates for 2010 are as follows. The cost for property damage per accident, which includes non-disabling injuries was $8,900. For a disabling injury that was non-fatal, the cost would be $70,200. An accident related fatality, however, cost on average $1,410 in 2010. As one can readily see, these dollar amounts far exceed the minimum liability coverage required by most every state.
The average cost of a non-incapacitating injury is $22,300.
An injury that causes incapacitation jumps to a cost of $69,200. Just the possibility of an injury is like to cost the culpable party's insurance provider $12,600!
How Many People are Involved and Who Pays the Tab
More than two million people suffer injuries in car crashes each year. In 2010, the average cost per incident was almost $23,500. This is in large part due to the exploding costs of medical care.
What insurance companies want, in order to show a profit, is to avoid paying the costs of these claims. They would greatly prefer consumers to bear the burden of these expenses, paying for claims through their annual premiums.
This information is provided by the Insurance Research Council, a not-for-profit research group. The Council advises us that insurance companies do a good job of providing us with protection, but they often do a better job of getting us to pay for our accidents and other claims in advance.
The good car insurance companies price their rates competitively, low enough to entice many consumers to switch companies, but high enough to insure they'll turn a profit at year's end. They do this by analyzing statistical data and knowing how many accidents are likely to occur, how often and how much they will cost to settle.
Avoid Being a Statistic
State Farm, the nation's largest car insurer has a customer base with a somewhat lower accident average than its competitors. State Farm policyholders file a collision claim on average only once every 19 years. This being true, State Farm can offer its car insurance customers better rates. However, to maintain this statistic, State Farm tends to insure drivers that are older and safer than their competitors do.
Compare quotes from the top car insurance companies and save
Secured with SHA-256 Encryption
How to Avoid Accidents
Don't drive while impaired or under the influence of drugs and alcohol. Alcohol and drug use contribute to more accidents than any other single factor. Avoid driving between the hours of 12 midnight and 3AM when the highest number of injury accidents occur. The majority of fatal crashes, more than 66% involves alcohol or drug impairment.
Don't drive while distracted. If you must use a cell phone while driving, make sure you use a hands free device. Don't text while driving either.
More and more states have passed laws against texting while driving as it has reached epidemic proportions in recent years.
More than 5,500 highway deaths occurred in 2009 as a direct result of drivers being distracted and taking their eyes off the road. Glancing at a cell phone or pulling up a tune you'd like to listen to on your MP3 player of iPod can only take a few seconds, but those few seconds could be a life or death matter if you veer off the road or into on-coming traffic
Don't speed! A third of all fatalities are related to speeding and/or driving too fast for the existing weather and road conditions. By slowing down you may cost yourself a few minutes, but you might just save yourself from a potentially disabling injury or worse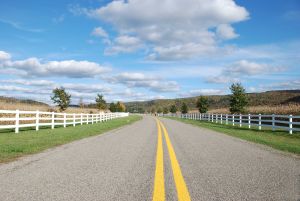 Avoiding heavily traveled roads and congested areas can also help reduce the likelihood of your being involved in a traffic accident. Fewer serious accidents occur on the interstate highway systems and major roadways. In fact, less than a quarter of all injury related accidents occur on a major highway says the National Highway Transportation Safety Association (NHTSA).
Expectations
Paying for any insurance is pretty much the same. You pay for it gladly, hoping you'll never have the chance to use it. However, if you do have an accident with your automobile, you will have certain expectations of your policy and your insurance company.
In case of an accident claim, you won't just want adequate insurance or the legally required minimum coverage. You will definitely want a car insurance policy that takes care of all your needs without any unforeseen surprises.
While there is a legal requirement to carry car insurance, most consumers pay their insurance premiums to protect their family members and their own financial security. When you comparison shop for car insurance, make sure the policy you select is not just good; make sure it covers all of your family's potential needs.
Whatever your car insurance needs, click here to find your best deals online by putting your ZIP in the FREE box!