Car Insurance Increase When Moving
You may see your car insurance increased when you move. That's because auto insurance companies determine rates based on location. Traffic and theft statistics of your new home state will impact your insurance rates. Compare car insurance quotes online so you aren't surprised when your auto insurance increases when you move. Enter your new ZIP code below to start comparing quotes now for free.
Compare Cheap Car Insurance Quotes
Secured with SHA-256 Encryption
UPDATED: Oct 27, 2020
It's all about you. We want to help you make the right cheap car insurance coverage choices.
Advertiser Disclosure: We strive to help you make confident car insurance decisions. Comparison shopping should be easy. We are not affiliated with any one car insurance company and cannot guarantee quotes from any single company.
Our insurance industry partnerships don't influence our content. Our opinions are our own. To compare cheap car insurance quotes from many different companies please enter your ZIP code on this page to use the free quote tool. The more quotes you compare, the more chances to save.
Editorial Guidelines: We are a free online resource for anyone interested in learning more about car insurance. Our goal is to be an objective, third-party resource for everything car insurance-related. We update our site regularly, and all content is reviewed by car insurance experts.
Things to know...
If you make changes to your auto insurance policy, even the smallest thing can change your premiums
There's a possibility that updating your address on your auto insurance could change your term premiums
Changes that are made to your mailing address and not your physical address won't affect your rates
Changing your physical address can affect your rates when you move to a new zip code or a new state
If you're moving to a new state, you'll have to purchase a new policy or transfer your policy to a new agent
Moves can be expensive. It doesn't matter if you're moving around the corner or across the country, a lot of planning goes into arranging a move.
You don't just have to move all of your belongings, you have to move your electric, water, trash, the Internet, phone, and gas services. In addition to this, you may even have to change doctors, schools, and jobs, which makes everything even more difficult.
You can get so caught up in the moving process that you fail to even consider how your move is going to affect your car insurance. You might have already arranged your home insurance, but even your car insurance premiums can be impacted by your move.
Compare car insurance rates today so you can make sure you have the best coverage in your new location. Enter your new zip code above to get started.
It's best that you know what to expect when it comes to changing your address and how it will impact your rates. Here's a guide to auto insurance increases caused by moving:
Understanding Insurance Rating Factors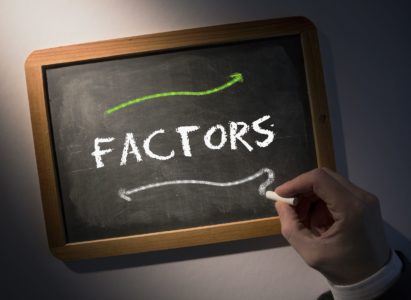 Auto insurance companies use a big list of rating factors when they are assessing how much a specific household should pay for insurance coverage on a specific car.
The most commonly known factors to consumers who aren't well-versed in insurance are driving record and claims history.
Little do some drivers know that many of the rating factors aren't even related to your abilities as a driver. Each of them is assumed to affect your risk classification in one way or another. The riskier you are to insure, the more the insurer has to charge you for your coverage.
Commonly Used Rating Factors
There are loads of different rating factors that are related to your lifestyle, your location, your vehicle, your insurance history, and drivers in your home. Each of these is used as indicators that tell the insurer whether or not you're likely to file a claim or let your insurance lapse.
Each different factors are weighted differently. Some of the factors are beyond your control and others can change from term to term. You have to know which factors are affecting your rates so that you always keep your policy up-to-date.
Here is a list of the rating factors used by all personal insurers:
Age
Gender
Driving experience
Vehicle type
Vehicle safety features
Insurance history
Claims history
Driving record
Vehicle usage
Annual mileage
Driving habits
State and zip code
Compare Cheap Car Insurance Quotes
Compare quotes from the top car insurance companies and save
Secured with SHA-256 Encryption
Compare quotes from the top car insurance companies and save
Secured with SHA-256 Encryption
Why is your address a rating factor?
Some of the factors on the list above might be a bit shocking to you. It's strange to learn that even your credit can affect your insurance premiums in most states.
Not all of the factors sound like they matter, but according to research and analysis, they each contribute to how likely you will be to have a claim.
Your address affects your rates because that's the physical location where your vehicle is located the most. Since the car is exposed to loss wherever it's located, the zip code where you live really does matter.
The more you're exposed to loss, the higher the risk, but it's reasonable if you don't understand how exposure is measured.
How does an insurer determine if you live in a risky zip code?
Every single zip code will have a different risk classification. Living in some of the lower-risk zip codes can be beneficial to you but it's the high-risk regions that can have a major impact on your rates.
The company will use a few different things to assess if you're going to exposed to more losses in your new zip code:
Population-to-accident ratio
Claims data that indicates that the incidence of accidents is high in the zip code
Claims data that indicates the cost of claims settlements is high compared to other regions
Crime data that show the rate of motor vehicle thefts or vandalism is high in the zip code
When will a move or change of address affect your rates?
If you're about to make some changes in your life, those changes could lead to either a lower rate or a higher rate. It all depends on your specific scenario and where your vehicle is going to be parked overnight on a regular basis.
Here a couple of examples of what will happen when you're changing your address:
You're Changing Your Mailing Address
If you're in the process of moving but you're only changing your mailing address and not your physical location, you need to update only the mailing address. This is not a rating factor on your policy and won't lead to an increase.
Don't put off updating your address to avoid a rate increase because you don't want to miss a payment because the bills were sent to your old mailing address.
You're Changing Your Physical Address
If you're going to update both your mailing and physical address, you could see a change in your premiums. Hopefully, you're moving to a lower-risk zip code so that your rates go down instead of up.
If that's not the case and your rate increases, you'll be billed for the prorated difference within the next 30 days.
You're Moving Out of State
Out-of-state moves are already tough. Factor in the fact that you have to transfer your registration and then move your insurance. You can't just call your agent and update your address if it's in another state.
Your coverage must be written in the state where you're living. That means you'll cancel your old policy and start a new one.
Car insurance updates shouldn't be a priority when you're moving but it should be on your to-do list. Be sure to change your address shortly after you move.
If you're not happy with the rate you're given, use an online rate comparison tool and see which carriers charge better rates in that area. Enter your zip code below to start comparing right now.