How do insurance adjusters value a car?
It's the insurance adjuster's job to investigate claims and determine the value of property before settling a claim. How insurance adjusters value a car is based on the Actual Cash Value of the vehicle. This value is determined by Kelly Blue Book values and the average sales price of said vehicle at dealerships and private sales in your ZIP code. If you disagree with how insurance adjusters value your car, you can dispute the claim settlement by contacting your insurance provider.
Compare Cheap Car Insurance Quotes
Secured with SHA-256 Encryption
UPDATED: Oct 28, 2020
It's all about you. We want to help you make the right cheap car insurance coverage choices.
Advertiser Disclosure: We strive to help you make confident car insurance decisions. Comparison shopping should be easy. We are not affiliated with any one car insurance company and cannot guarantee quotes from any single company.
Our insurance industry partnerships don't influence our content. Our opinions are our own. To compare cheap car insurance quotes from many different companies please enter your ZIP code on this page to use the free quote tool. The more quotes you compare, the more chances to save.
Editorial Guidelines: We are a free online resource for anyone interested in learning more about car insurance. Our goal is to be an objective, third-party resource for everything car insurance-related. We update our site regularly, and all content is reviewed by car insurance experts.
Here's what you need to know...
It is the insurance adjuster's job to investigate claims and to determine the value of property before settling a claim
Adjusters calculate the Actual Cash Value of a vehicle by using different guides and listings to determine what it will cost to replace the vehicle at the current time then deducts depreciation from the replacement cost
One of the most reliable resources that a claims adjuster will reference when determining a car's value is the National Automotive Dealer Association guide
If your car isn't very valuable or you get into a serious accident where your car sustains major damage, the cost to repair the car could be higher than the car's depreciated value
When you buy auto insurance, it's crucial to research the coverage options that are available to you. After you familiarize yourself with each of the options that standard insurers in your state offer, it's easier to build a policy that will protect you, your assets, and your property.
While it is important to build an insurance portfolio with coverage options that you need, it's also important to understand how your insurer will pay when the time comes to file a claim — especially when you're filing a claim for repair.
Here's what you need to know about claims valuations and how vehicle value is determined.
Start comparison shopping today by entering your zip code into our FREE comparison tool above!
Personal Auto Policies are Legal Contracts
Auto insurance policies are contracts between the carrier and the policyholder. When you make payments, you are agreeing to the terms that the insurer sets. You can find these terms by reviewing your Personal Auto Policy booklet which is sent to you with your policy documents.
Compare quotes from the top car insurance companies and save
Secured with SHA-256 Encryption
Know What Your Policy Says About Vehicle Valuations
One section in the Personal Auto Policy details how your car is valued when you carry physical damage coverage and you need to file a claim for covered damages.
This section is generally titled Part D: Coverage for Auto Damage. Here, you will find a thorough description of what's covered under comprehensive and collision coverage.
In addition to coverage definitions, Part D of the policy will also define which vehicles qualify for coverage, causes of damage that are excluded, and how much the insurer will pay to repair or replace your car.
In a majority of standard auto policy contracts, the contract states that the company will only pay up to the vehicle's Actual Cash Value after a loss. Some agents will use the term fair market value when describing limits.
Actual Cash Value (ACV on policy documents) might sound like a redundant term. In the insurance industry, ACV means that the company will pay for the replacement cost of the vehicle at the time of the loss minus depreciation.
Do all insurance companies factor in depreciation when settling damage claims?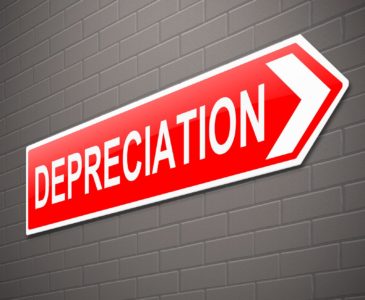 While standard policies and high-risk policies do typically use Actual Cash Value valuations methods to limit the amount the carrier must payout, there are special endorsements that are available to policyholders to provide you with more protection. These endorsements are often called New Car Replacement coverage.
When you elect to carry New Car Replacement on your policy, the company will use Replacement Cost Valuation methods.
Instead of depreciating the value of your car, the company will issue you a check to replace your car. To qualify for this special endorsement, you must have a newer model vehicle with low mileage.
When you file an at-fault or not-at-fault claim, it is the claims adjuster's job to gather the facts, verify coverage under the policy, determine fault, and assess the value of your car.
If you're found to be negligent for the accident, your insurance company will determine value. If you're not-at-fault, the other carrier will make an offer to settle the claim based on what they think the car is worth.
How does a company settle on an Actual Cash Value?
There's not just a single guide book that adjusters can turn to when they are trying to find out what a car is worth. Since many factors affect a car's rate of depreciation, and some cars depreciate faster than others, the professionals will use a combination of different listings, guides, and sales records to make the company's initial settlement offer.
If you're interested in doing your own research to determine how much your car is worth in the eyes of your adjuster, you can use the Internet to access some popular valuation resources.
This knoweldge will also give you negotiating power if you're not happy with your offer. Some of the different resources that you can use to look up ACV include:
Compare quotes from the top car insurance companies and save
Secured with SHA-256 Encryption
When is a car declared a total loss?
When a car is declared a total loss, the company will take over possession of the vehicle and a salvage title will be issued. This happens when the total cost to repair the vehicle is higher than the car's Actual Cash Value. Some cars can be totaled sooner if the state has a Total Loss Threshold and that threshold is exceeded.
You have the option to keep your car if it is totaled. Be sure to consider the type of damage the car sustained before you decide if it is worth it to buy the car back. Sometimes, it makes better sense to take the settlement and start over.
If you're not happy with the way that your adjuster settled your claim, you have the option to shop around at any time during your term.
One effective way to price shop is to use our FREE comparison shopping tool that delivers instant quotes in minutes. Enter your zip code below to get started!