Can you sue your own car insurance company?
You can sue your car insurance company if you believe your insurance claim was unfairly denied. Most auto insurance claims are appropriately denied for a variety of reasons, but if you believe your claim was not fairly reviewed you can contact your provider and seek arbitration with a third-party, contact your state insurance department, or you can sue your auto insurance company for proper compensation.
Compare Cheap Car Insurance Quotes
Secured with SHA-256 Encryption
UPDATED: Oct 29, 2020
It's all about you. We want to help you make the right cheap car insurance coverage choices.
Advertiser Disclosure: We strive to help you make confident car insurance decisions. Comparison shopping should be easy. We are not affiliated with any one car insurance company and cannot guarantee quotes from any single company.
Our insurance industry partnerships don't influence our content. Our opinions are our own. To compare cheap car insurance quotes from many different companies please enter your ZIP code on this page to use the free quote tool. The more quotes you compare, the more chances to save.
Editorial Guidelines: We are a free online resource for anyone interested in learning more about car insurance. Our goal is to be an objective, third-party resource for everything car insurance-related. We update our site regularly, and all content is reviewed by car insurance experts.
Things to know...
While some auto insurance claims are unfairly denied, others are appropriately denied for a wide range of reasons
If your claim has been denied, it is important to determine if the insurer had a legitimate reason for doing so
Filing a lawsuit against your insurance company is only one way to seek justice if your claim has been unfairly denied
Car accidents and other similar types of damaging events can result in expensive bills, and you may file an insurance claim to pay for related expenses.
You may reasonably expect that your coverage would pay for most or all of your expenses, but some people have the unfortunate experience of having their claim denied.
Without insurance proceeds, you may be forced to pay these expenses out of your own pocket.
If this has happened to you recently, you may be thinking about suing your insurance company. A lawsuit against an insurance provider can be stressful, expensive, and time-consuming.
Before you take this significant step, you may want to walk through a few different steps to achieve an effective resolution to your matter.
See if you could be saving money on your car insurance. Enter your zip code above to compare rates from several insurers at once.
Explore Legitimate Reasons Why Your Claim May Not Be Approved
While some car insurance claims are unfairly denied, many that are denied are done so with just cause. There are several common reasons why a claim may not be approved that may be legitimate.
Remember that your civil lawsuit against your provider may not be successful if the claim was rightfully denied.
Replacement Value Is Not Sufficient
Most car insurance policies are written to provide you with coverage that is the lesser of the car's replacement value or the stated amount of coverage that you have pre-selected. If a car has significant mileage on it or is very old, it may have a very low replacement value.
The insurance company may acknowledge that the event was covered by your policy, but the replacement value may not be sufficient in relation to your deductible or to the repair costs.
It is important to learn more about how and why your claim was denied.
If replacement value was cited as a reason, determine if a fair and reasonable replacement value was assigned to your vehicle when the claim was processed.
You should also review the wording in your policy to ensure that you fully understand it.
The Event or Damage Is Not Covered by Your Policy
Another common reason why an auto insurance policy may be denied is that the event or the type of damage is not covered by your policy. There are different types of coverage that each cover different types of expenses and events.
For example, liability coverage only pays for another person's expenses if you cause the accident. Collision coverage only pays for your own expenses in the event of a car accident and for other types of damaging events.
If you do not have appropriate coverage for your specific type of event and related expenses, the insurance company may be justified in turning down your claim.
Compare quotes from the top car insurance companies and save
Secured with SHA-256 Encryption
If You Believe Your Claim Was Not Fairly Reviewed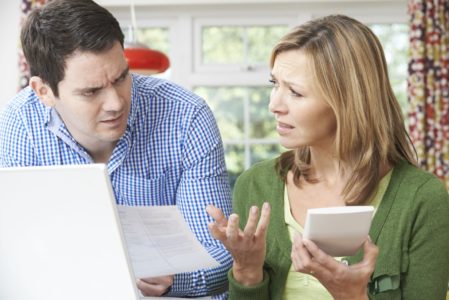 After some drivers learn more about the reason why a claim was not approved, they may believe that the claim was not fairly reviewed.
If this is the case for you, it is important that you document the reason for the claim by obtaining a written explanation from the insurance provider.
In addition, prepare a written response that indicates why you are disputing this decision and any supporting evidence or documentation that you can find.
Seek Arbitration
Many insurance claims disputes can be handled by simply communicating effectively with the provider, but when this is not possible, you can seek arbitration.
Upon request, your insurance provider should be willing to set up an arbitration meeting with an independent third party, and this meeting may resolve the matter to your satisfaction.
However, an arbitrator will not always rule in your favor, and instead, he or she will come to a resolution that is equitable for all parties based on the terms of your coverage.
Compare Cheap Car Insurance Quotes
Compare quotes from the top car insurance companies and save
Secured with SHA-256 Encryption
Contact Your State's Insurance Department
Insurance companies are required to meet specific rules and regulations, and there is a chance that your dispute can be settled through your state's insurance department.
You can set up a formal meeting with a representative from this department to discuss the matter in detail, or you can draft a formal letter and include any written documentation that you have accumulated to support your case.
It may take a few weeks or longer to rectify the matter through the governmental agency, so you should plan to be patient.
Pursue Legal Action
As you can see, there are several steps that you can and should take before you escalate the matter to the court system. Legal action against your provider is possible through a civil lawsuit, but it can be expensive and may not always result in a positive outcome for you.
Scheduling a consultation with an attorney can provide you with more information about the strength of your case and the potential outcome that you may reasonably enjoy.
Some matters may be settled out of court when your lawyer contacts the provider, but other matters will be tried before a judge or jury. The legal process may take months to walk through in some cases.
Update Your Coverage
After the matter has been properly resolved, you may have a sour feeling about your current insurance provider, and you may be ready to transfer coverage to a new provider.
If your claims dispute was related to the coverage you purchased, ensure that you increase your coverage to a suitable level.
It is also wise to research the provider's financial strength and overall reputation for having a hassle-free claims process.
There are many reputable companies that have an easy claims process, but their rates can vary. Take time to compare rates between the top companies in the industry before you finalize your buying decision.
The thought of going head to head against a major insurance company can sound intimidating, but being ripped off by a claim that was not properly reviewed and approved can create an unnecessary financial strain on your life for years to come.
You want to reach a fair and reasonable solution to your current issue, and you can enjoy the best overall results when you walk through each of these steps. Many insurance claims disputes can be settled without escalating them into a legal issue.
Compare car insurance quotes right here to see how much you could save on your coverage.