Can a car insurance company deny a claim?
A car insurance company can deny a claim if you lack the proper coverage levels, allowed your policy to lapse, increased the value of your car without updating your policy, or were driving under the influence at the time of the incident. If your auto insurance company denies a claim and you disagree, you can contact them and seek arbitration with a third-party for proper compensation.
Compare Cheap Car Insurance Quotes
Secured with SHA-256 Encryption
UPDATED: Apr 1, 2021
It's all about you. We want to help you make the right cheap car insurance coverage choices.
Advertiser Disclosure: We strive to help you make confident car insurance decisions. Comparison shopping should be easy. We are not affiliated with any one car insurance company and cannot guarantee quotes from any single company.
Our insurance industry partnerships don't influence our content. Our opinions are our own. To compare cheap car insurance quotes from many different companies please enter your ZIP code on this page to use the free quote tool. The more quotes you compare, the more chances to save.
Editorial Guidelines: We are a free online resource for anyone interested in learning more about car insurance. Our goal is to be an objective, third-party resource for everything car insurance-related. We update our site regularly, and all content is reviewed by car insurance experts.
Things to know...
Car insurance is a contract between the insurance company and the insured to provide protection against losses in the event of a covered accident
Though auto insurance companies are supposed to protect you from losses, sometimes claims are legitimately denied for a different number of reasons
You have the right to dispute a denied insurance claim if, after reading the insurer's reason for denying the claim and reviewing your policy, you come to the conclusion that the company's decision was incorrect
Auto insurance, at its most basic level, is a contract between you (the insured) and the insurance company to protect you from losses arising from a car accident.
The auto insurance provider offers options that seem to fit your requirements, but you have the freedom to choose a policy depending on the depth of your auto insurance needs.
Once a contract or an agreement has been reached, you will make payments in exchange for the coverage received. These payments can usually be made in the following installments:
monthly
quarterly
semi-annually
annually
From the explanation above, the concept of auto insurance seems simple enough. However, there are other obligations or stipulations you need to adhere to if you're to receive compensation when losses occur.
In other words, holding up your end of the deal involves much more than just paying your monthly premium.
It is always recommended that you buy more coverage than what's mandated in your state, just to be safer.
If you are looking to purchase auto insurance coverage for your car, compare quotes from multiple providers before you decide on one.
Comparison shopping improves your chances getting better coverage at a better price. Enter your zip code to compare quotes today!
Denied Claims
No one ever hopes to get involved in a car accident, but that's beyond our control, and that's why we buy insurance.
When you pay your auto insurance premium every month, you expect the company to honor the agreement and process your settlement smoothly after the occurrence of a covered event.
Unfortunately, that is not always the case. The insurance company may have the grounds to deny your claim legitimately. Here are some of the legitimate reasons your auto insurance provider can deny your claim:
– Driving Under the Influence
In most cases, auto insurance companies are forgiving and will still pay a claim even if the incidence was partially your fault. For instance, if you are careless and leave your keys in the car and it gets stolen, most providers will still replace your vehicle.
However, poor choices like driving under the influence of drugs or alcohol will have repercussions in case you get in an accident. If you are legally intoxicated, the insurance company is allowed to deny your claim.
– Letting Your Policy Lapse
Under your insurance contract, you are required to keep making your premium payments to receive coverage. If you miss a payment, that's breach of contract, and the company may declare your contract null and void or suspend your coverage.
This situation is referred to a coverage lapse. Even if the insurer is lenient and decides to suspend your coverage for a few days, you still won't get compensated if your coverage hasn't been reinstated at the time of the accident.
– Increasing the Value of Your Car without Notifying Your Insurer
If you make any upgrades to your car, you are required to notify your auto insurance, provider. If you perform any special modifications or heavy customization to your vehicle and fail to let the insurance company know about it, you are not entitled to full compensation.
Upon notifying the insurance company about the improvements in your vehicle, your premiums will go up to reflect the increased value of your car.
Compare Cheap Car Insurance Quotes
Compare quotes from the top car insurance companies and save
Secured with SHA-256 Encryption
– Exclusions in Your Policy
There are a lot of people out there who believe they have certain auto insurance coverages when they actually don't!
Read your policy to find out about any exclusions and avoid surprises.
Note that auto insurance policies are different – no two car insurance policies are the same and asking your friends about the terms of their policies instead of reading yours won't do you any good.
Keep yourself up to date with the factors determining your auto insurance rates, and when you drop coverage to reduce costs, make sure that it's worth the risk. In some cases, it's better to switch to a new provider instead of dropping coverage.
That way, you can compare quotes from various providers and you might get better coverage at an affordable price.
– Filing a Claim for Coverage You Don't Have
The subject of insurance can be very complicated and boring. Do you want proof? Try reading your policy document.
As a result, most drivers don't understand their coverage and often have their claims denied after filing claims they don't have coverage for. For instance, if you hit a deer, the auto insurer won't pay for the damages to your vehicle unless you have comprehensive coverage.
– Fraudulent Claims
If you exaggerate the extent of damages to your vehicle after an accident to get a few more dollars on the settlement amount, that's committing auto insurance fraud.
Faking the theft of your car to receive an insurance payout is also fraudulent, and it will be denied. You have the right to dispute the decision if the reason for denial does not reflect the facts surrounding the incident.
Compare quotes from the top car insurance companies and save
Secured with SHA-256 Encryption
What should you do if you disagree with your insurance provider's decision?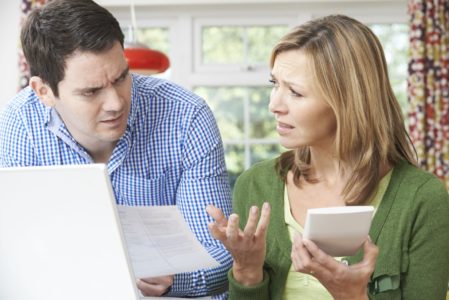 Appealing a bad insurance claim should be an easy process. The company will revisit the case and open a new investigation. If it's determined that the decision to deny your claim was a mistake, you will get your payout.
Remember that when shopping for auto insurance products, comparison shopping is the only way to obtain the best rates. Enter your zip code below to compare rates today!