Car Insurance Increase for No Reason
If you notice your car insurance increase for no reason, start shopping for new coverage immediately. Car insurance companies can raise rates for any number of reasons, including after you file a claim, and you may find lower rates with a new company. Don't settle for an auto insurance increase for no reason. Get better rates today with our free comparison tool below.
Compare Cheap Car Insurance Quotes
Secured with SHA-256 Encryption
UPDATED: Oct 27, 2020
It's all about you. We want to help you make the right cheap car insurance coverage choices.
Advertiser Disclosure: We strive to help you make confident car insurance decisions. Comparison shopping should be easy. We are not affiliated with any one car insurance company and cannot guarantee quotes from any single company.
Our insurance industry partnerships don't influence our content. Our opinions are our own. To compare cheap car insurance quotes from many different companies please enter your ZIP code on this page to use the free quote tool. The more quotes you compare, the more chances to save.
Editorial Guidelines: We are a free online resource for anyone interested in learning more about car insurance. Our goal is to be an objective, third-party resource for everything car insurance-related. We update our site regularly, and all content is reviewed by car insurance experts.
Things to know...
A reason usually exists for why an insurance company chooses to raise rates
Not every reason is a major one. Small issues can lead to premium increases
Checking out quotes from other providers remains an option when an increase is proposed
Careful drivers pride themselves in their ability to travel the roads without suffering any problems. Avoiding accidents remains a top priority for such drivers. No one wants to suffer an injury nor wishes to hurt someone else.
Financial matters also play a role in good driving habits. A driver doesn't want to damage his/her car and then deal with insurance claims or pay out of pocket expenses.
Mishaps on the road usually lead to paying higher insurance premiums, which can put a dent on a budget.
Even the most careful driver may receive a surprise in the mail. The diligent driver discovers an increase with his/her auto insurance premium. Seemingly, the increase is for no reason whatsoever.
Can this really be possible? Would an insurance company arbitrarily raise an auto insurance rate for absolutely no reason?
Compare car insurance rates today by using our free quote tool above.
A Reason Likely Exists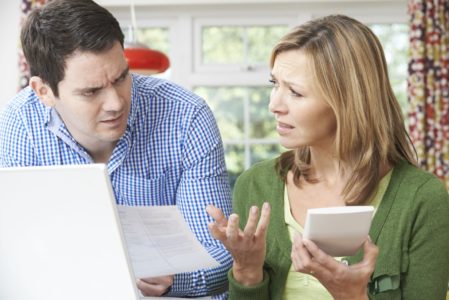 Policyholders might claim the premium price went up for "no reason" when, in fact, a reason does exist. The rationale behind the increase may not be something entirely expected. Or, the policyholder simply may not understand the reasoning behind the increase.
Most do expect blatant mistakes on a driver's to make higher insurance premiums unavoidable. Those receiving a speeding ticket or any other citation for a traffic violation begrudgingly accept higher insurance rates. They know a price follows poor driving behavior.
What they might not know is smaller issues may lead to premium increases. While these matters reflect less-commonly understood reasons, but they are legitimate reasons nonetheless.
Compare Cheap Car Insurance Quotes
Compare quotes from the top car insurance companies and save
Secured with SHA-256 Encryption
Compare quotes from the top car insurance companies and save
Secured with SHA-256 Encryption
Bad Credit and Other Background Woes
Insurance companies look at many things when underwriting a policy. They do so not only when examining an initial application, but also when renewing a policy. Credit scores are reviewed and factor into the rate levied at the customer.
A credit score could suffer due to a number of reasons besides being late for payments or defaulting on obligations.
Someone running into financial trouble might run up huge credit card debt which, in turn, drives a credit score down. None of these things have anything to do with driving records, but credit troubles do effect on auto insurance rates.
The same would be true of criminal convictions. And the conviction does not need to be a felony. Certain misdemeanor convictions could lead to auto insurance rates mysteriously increasing.
Unfortunately, credit scores and criminal backgrounds create an impression about the driver's character — fair or not. The auto insurance company makes a judgment call on the risk associated with someone whose background shows poor judgment or a lack of responsibility.
The insurance companies adjust rates to address concerns over character-related risk, which means a likely increase.
Moving to a New Location
Not everyone stays in the same neighborhood forever. A decision to move to a new town or even a new state happens eventually. Right after being settled in the new location, sticker shock shatters positive feelings about the move.
Auto insurance rates seemingly skyrocketed for no reason. Well, the reason was the move.
Certain locations come with greater risks. A major city, for example, comes with higher insurance costs than an outer suburban region. A driver can move wherever he/she wishes and does so with an understanding cost of living can be higher or lower in the new location.
People think of rent, food, utilities, and leisure activities in cost of living assessments. They overlook how auto insurance factors into the cost of living.
You may impose more risk the insurance company than what existed at the previous location when you move somewhere with a greater risk of the following:
theft
natural disasters
other potential sources for a claim
The insurance company probably will accept the risk and keep the policy active but will charge accordingly. Customers may assume that rates are uniform everywhere, but this is not the case at all.
Economic Factors
Auto insurance companies cannot escape the laws of economics. Eventually, these laws do catch up with both the insurance companies and their customers. Inflation remains a major economic element that contributes to an increase in premiums.
A car insurance company cannot charge the same amount for a premium in 2017 that it once did in 1997. The insurance provider must make adjustments with inflation.
The financial situation of the insurance provider may play a role in the price of premiums. When an insurance company begins to suffer financial troubles or pays significant amounts in settlements, the company may increase premiums.
Customers might not be thrilled with this outcome, but the insurance company reserves the right to raise its rates.
Of course, customers retain the option to go elsewhere. They do not need a reason to go elsewhere, either.
Compare quotes from the top car insurance companies and save
Secured with SHA-256 Encryption
Time for a New Provider
When you are not happy with the rates you are being charged, switching to a new provider might be the best way to address the situation.
Comparison shopping online opens doors to less-expensive rates that provide an alternative to costly increases. Review several new policy quotes when an increase looms. Upon finding a better rate, weigh a decision about jumping to a new provider.
Ask for a Reason
Customers leery about jumping to a new provider may want clarification about why rates increased. Simply asking the current insurance company for info could reveal all.
Insurance companies usually have a perfect customer service system set in place. The underwriters also document action taken on a policy. So, when an increase appears, contact customer service to determine the specific reason for the increase.
Likely, a response will be issued after a short wait. Perhaps it may be possible to dispute the increase or negotiate a lower amount.
If not, then return to the quotes and decide whether or not to switch providers. Compare quotes side-by-side right here by entering your zip code below.